Former West Memphis Three alleged ringleader details 'Life After Death'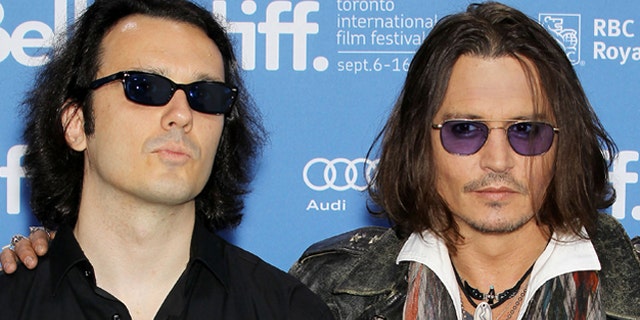 NEWYou can now listen to Fox News articles!
For more than 18 years, Damien Echols sat on death row for killing three 8-year-old boys in Arkansas. After devouring several thousand books there, the man who was cast as the ringleader of the West Memphis Three is out to tell his story.
Echols, 37, was released from prison in August 2011 along with Jessie Misskelley Jr. and Jason Baldwin after agreeing to an Alford plea, which allows the men to maintain their innocence while pleading guilty. As he continues his quest for full exoneration, Echols said he's no longer angry about that lost time and solely focused on making the most of each new day.
"If I sat around and dwelled on it, I guess I would be [angry], but I'm not for the most part," Echols told FoxNews.com. "For the first three to four years on death row, it was eating me alive. It was really, really bad. From the instant that my eyes opened in the morning, I was p----- off. I was never supposed to be there in the first place, they didn't have the right to do this to me."
[pullquote]
Echols' "Life After Death," a 399-page memoir written largely while on death row, has received high praise from celebrities like Pearl Jam's Eddie Vedder, actor Johnny Depp and director Peter Jackson. A new documentary on the case, "West of Memphis," by Jackson and filmmaker Fran Walsh wowed critics earlier this year at the Sundance Film Festival and is scheduled for wide release in December.
"They were actually part of my legal team," Echols said of Jackson and Walsh. "They were elbow-deep in my case."
Jackson announced last year that he was working to get Echols a full pardon in the case. After receiving an exemption to allow Echols to visit him, Jackson spent three months in New Zealand with the "Lord of the Rings" director and even went skydiving together.
"Peter is almost trying to make me make up for 18 years of lost life every time he sees me," Echols said. "We went luge sledding, parachuting ... it was always really fun."
Aside from promoting his book, Echols is now singularly focused on being exonerated in the gruesome crime that led to three HBO documentaries and countless headlines. The state of Arkansas, Echols said, has declared the case "closed" despite 200 pages of FBI documents that were never before seen and his attorneys are in an ongoing legal fight to expose that information.
"We're caught in a lawsuit about that information," he said. "The West Memphis Police Department will not lift one finger to help."
In 2007, Echols' attorneys said new DNA tests — paid, in part, by Jackson — taken from the muddy wooded area where the boys were found naked and bound in a drainage ditch did not match any of the three men. Echols, for his part, said he believes Terry Hobbs, the stepfather of victim Stevie Branch, should be further investigated in the 1993 triple murder.
"I do know that they never had any physical evidence attaching me or [Misskelley and Baldwin]," he said. "They actually had physical evidence putting [Hobbs] at the crime scene and we have several witnesses who have come forward who said relatives told them he did it."
Despite those pieces of evidence, Echols said he will "stop short" of saying he believes Branch killed those boys.
"Because I'm not the judge, I'm not a jury and I do not want to do what others have done to me," he said. "I'll let the evidence speak for itself."
As part of his Alford plea, Echols said he still has three counts of capital murder on his record, which will restrict his right to vote next month and has denied his entry into Canada.
Prosecutor Scott Ellington said Echols' book, which denies any link to the killings, is not subject to so-called "Son of Sam" laws that prevent criminals from profiting from their crimes.
"I have not read the book, but from my understanding, it is a denial of any involvement in the crime," Ellington told FoxNews.com. "It doesn't reenact or depict the crime."
When asked whom he believes is guilty in the triple murder, Ellington said: "We will continue to review all credible evidence that's forwarded to us by the defense's counsel and that's what we're doing."
For Echols, who now lives in Salem, Mass., life is "pretty hectic" as he makes his way across the country with his wife, Lorri Davis, promoting his book through mid-November, culminating with an appearance at the New York Public Library with rocker Henry Rollins.
"It's been hectic, but for 20 years, I didn't do anything," he said. "I didn't go anywhere."
During those dreadful decades, Echols said he read "several thousand" books, virtually everything he could get his hands on: Albert Camus, Charles Dickens, Sigmund Freud and Dostoevsky. Depp, in fact, said Echol's "brilliant" memoir harkens that of the Russian literary icon.
"It was so many that my wife used to keep them in her house and eventually had to rent a storage facility just to hold them all," he said. "I turned to that to get over the anger."
Echols' latest chapter in life, he said, is dealing with the newfound freedom, complete with "crushing anxiety and stress" that comes along with it.
"I hadn't walked anywhere without chains on my feet for 15 years," he said. "So now I'm constantly tripping down stairs."
And after years of going without knives during meals behind bars, Echols had to relearn how to use a full silverware set and will be filing taxes for the first time next April.
"I have to learn all of that, sometimes over again," he said. "Now I'm just trying to find my way from point A to point B."