Former police officer accused of faking shootout, making hoax bomb threat found dead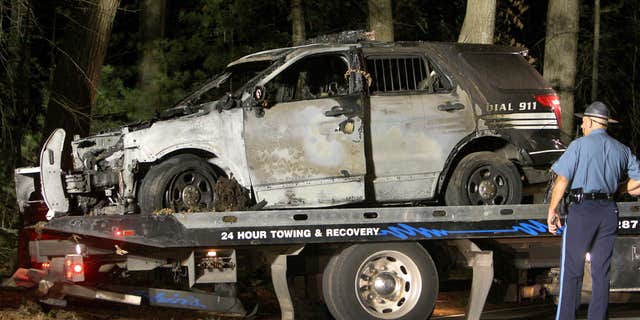 NEWYou can now listen to Fox News articles!
A former Massachusetts police officer accused of falsifying a shootout and calling a hoax bomb threat into a local high school was found dead in his home early Thursday, prosecutors said.
Bryan Johnson, 24, was found at approximately 3:30 a.m. by another resident of his home. A spokeswoman for the Norfolk District Attorney's Office told the Boston Herald no sign of foul play was found and Johnson's death was not being investigated as a homicide.
Johnson, a former part-time officer in Millis, Mass., was indicted Nov. 19 on six charges, including willful communication of a bomb threat to a school, making a false police report, malicious destruction of property and unlawful discharge of a firearm. He had pleaded not guilty in district court and was free on bail.
The district attorney's office said that in light of Johnson's death, it no longer would pursue the case. Johnson faced up to 20 years in prison if convicted of the school bomb threat alone.
Johnson had said a man in a pickup fired at his cruiser on Sept. 2. He said he returned fire, crashed into a tree and his SUV caught fire. His claims prompted a search by dozens of SWAT team members and other officers, a shelter-in-place order for residents and a school lockdown.
An investigation determined his account was a hoax and that Johnson had used his 9mm handgun to shoot at his vehicle. He later told investigators he blacked out.
Johnson underwent a psychiatric evaluation after his version of what happened was determined to have been a fabrication and was subsequently fired.
He had been promoted from dispatcher to part-time officer last year and was scheduled to start training as a full-time officer for the town of about 8,000 residents on the Charles River, about 25 miles southwest of Boston.
The Associated Press contributed to this report.
Click for more from the Boston Herald.