Florida woman caught smiling in mugshot after deadly DUI crash now faces manslaughter charge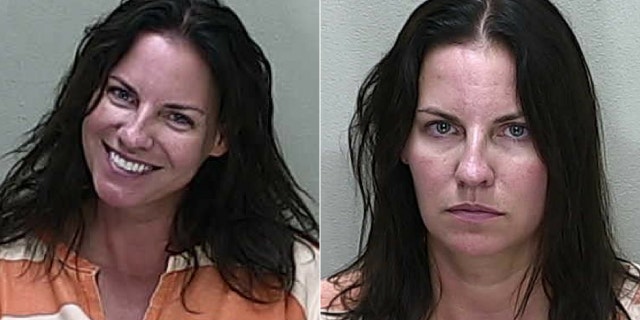 A Florida woman who was captured in her mugshot with a massive grin following a drunk driving crash that later killed a mother wasn't smiling on Saturday when she was charged with DUI manslaughter.
Angenette Marie Welk, 44, was booked into Marion County Jail Saturday after she turned herself in to police. Welk initially faced several charges, including DUI with serious bodily injury, until Sandra Clarkston died four days after the crash.
Welk was driving down U.S. Highway 27 in Marion County on May 10 when police said she rear-ended a Hyundai Elantra that then slammed into a tractor-trailer stopped in front of it, Florida Highway Patrol reported.
Clarkston had celebrated her birthday a day before the crash. Her daughter, Keonna Sciacca, told WKMG the 60-year-old was paralyzed and brain dead, though doctors performed multiple operations to try to save her.
FLORIDA WOMAN SMILES IN MUGSHOT AFTER DUI CRASH THAT KILLED MOTHER, OFFICIALS SAY
Clarkston's other daughter, 18-year-old Shiyanne Kroll, was driving the vehicle and suffered minor injuries.
Welk had told the trooper at the scene she crashed into the vehicle because she dropped her cell phone while driving. However, the trooper noticed the 44-year-old's breath reeked of alcohol and her eyes were glossy. Welk failed to complete a field sobriety test and her blood alcohol level was .172, more than twice the legal limit of .08.
Welk's smiling mugshot angered the Clarkstons, who called the photograph "disgusting."
"That disgusts me and that means she has no remorse for what she did at all and I hope that judge sees that picture and says the same thing," Kroll said.
The Clarkstons told Ocala StarBanner on Saturday they were glad Welk was re-arrested. However, they weren't happy Welk was released on $30,000 bond the same day she turned herself in.
"She needs to be sitting in the jail. She needs to rot in hell. I want to spit in her face," Kroll said.
Welk's lawyer Stacy Youmans said her client is "a good-hearted person, a wife, mother and friend who is devastated by what happened."
"Her heart breaks for the Clarkston family," she said about Welk.