Florida school shooting victims' parents move to sue gun maker, seller of firearm used in Parkland massacre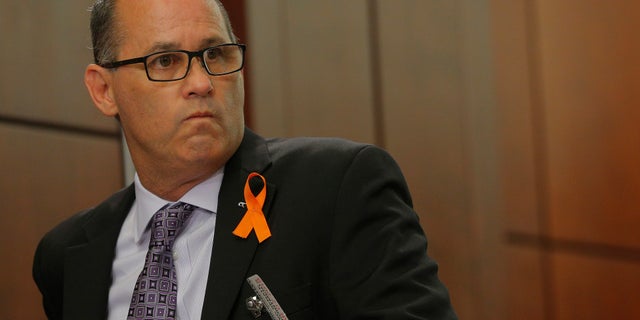 NEWYou can now listen to Fox News articles!
The families of two high school students who died in the tragic Parkland shooting earlier this year are pushing to sue the maker of the gun used in the massacre, accusing manufacturers of being in a "protected class."
Fred and Jennifer Guttenberg, parents of Jaime, and Max Schachter, father of Alex, filed a lawsuit in Broward Circuit Court Wednesday asking a judge to hold the gun manufacturer of the weapon the school shooter used to murder their children, and 15 others, partially responsible, the Orlando Sun-Sentinel reported.
The parents are seeking damages against Sunrise Tactical Supply, where shooting suspect Nikolas Cruz, 19, legally purchased his AR-15 weapon, and American Outdoor Brands, which was once known as Smith & Wesson, according to the newspaper.
Both Jaime and Alex were 14 years old when they were gunned down at Marjory Stoneman Douglas High School on Valentine's Day. Jaime had hopes of becoming an occupational therapist one day; Alex was a talented musician who played the trombone and baritone.
"Bottom line, we need to hold people accountable for this gun violence," Fred said in a Facebook post about the lawsuit.
At a press conference Thursday, Fred argued no one said, "We can be responsible" following the shooting.
"Our legislators won't do anything about the law. The gun lobby says we shouldn't do anything about the law. The manufacturers, marketers and sellers of these guns say, 'It's not our fault.' This is the only industry where there is apparently a protected class," he said, according to WPLG-TV. "Well, we're going to change history and break that protection."
INSIDE FLORIDA GOV. RICK SCOTT'S $500 MILLION ACTION PLAN AFTER PARKLAND SHOOTING
The parents want to "hold defendants legally responsible for their complicity in the entirely foreseeable, deadly use of the assault-style weapon that they place on the market," the lawsuit read, according to the Sun-Sentinel.
But before the parents can continue with their lawsuit, a court must decide if it's even possible for gun makers to be sued by victims due to a Florida law that prohibits suits against makers, sellers and other related groups if a gun is used in an unlawful manner, the Miami Herald reported. As it stands now, the families could be held liable for a flood of legal costs, including attorneys fees and compensation for loss of income if the law is held up, protecting the gun maker and seller from their suit.
"It just tramples American citizens' Seventh Amendment right to civil jury trial," Julie Braman Kane, who represents Schachter, told the Miami Herald.
NATIONAL SCHOOL WALKOUT PLANNED BY STUDENTS WORLDWIDE AFTER PARKLAND SHOOTING
Fred said he understands the risks he's taking with the suit.
"But you know what? Too many people are dying," he said. "We're going to raise a generation of kids who are going to be afraid to go to school. That's unacceptable. And you know what? We're going to start the process of fixing that today."