Florida nanny found dead in woods reportedly tortured before her murder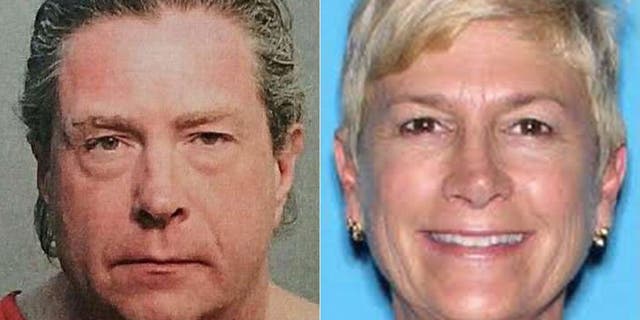 NEWYou can now listen to Fox News articles!
A nanny in Florida whose body was found in a wooded area in September was tortured before she was ultimately killed, according to reports.
Jennifer Fulford, 56, went missing on Sept. 27 and was found dead days later when her body was spotted by a police helicopter.
Fulford "was stabbed and suffocated before being dumped in the woods," the Orlando Sentinel reported, citing court documents. Her wrists and ankles were also reportedly bound.
PERSON OF INTEREST IN DEATH OF FLORIDA NANNY IS APPREHENDED
She was last seen the morning of Sept. 27 leaving a dental office in Winter Park. Her husband, Robert, had posted on Facebook that his wife's purse was found inside a home where she worked as a nanny, and she didn't pick up her boss's son from school, prompting concern.
Robert Fulford had detected a $300 withdrawal from their joint bank account that night. Scott Edward Nelson, 53, was later caught on surveillance footage using Fulford's ATM card.
Nelson was initially arrested on Oct. 1 in Jacksonville for violating his probation, according to the Orlando Sentinel. But he is now being charged in connection to Fulford's murder, the newspaper reported.
Nelson sent a letter to a federal judge in November claiming that he didn't murder Fulford, writing, "Allegedly, I kidnapped/murdered a woman in Winter Park and have spoken to no law enforcement. Their [sic] are many things they don't know!"
However, police say days after Nelson sent that letter, he confessed to the crimes.
FLORIDA NANNY FOUND DEAD, PERSON OF INTEREST SOUGHT
Police reportedly found Fulford's car abandoned in a parking lot days after she was killed. In the truck was a blood-stained towel, a t-shirt and a watch, which Fulford was wearing the day she was murdered. The blood on the towel reportedly matched Fulford's DNA.
Nelson was charged with murder, kidnapping, carjacking, burglary, robbery with a deadly weapon and hindering communication with law enforcement, according to the Sentinel.