Five crew members on lifeboat plucked from 'Deadliest Catch' waters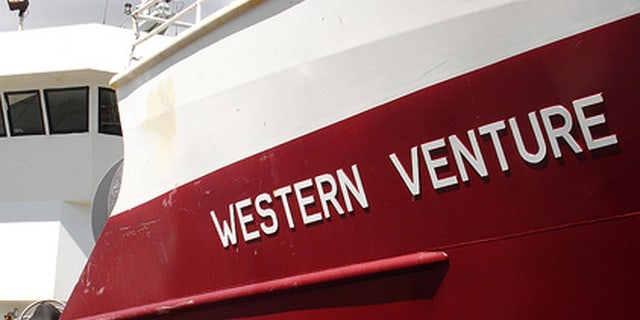 Five crew members from a Bering Sea crab boat survived a harrowing reminder of why the reality show is called "Deadliest Catch," when they were cast adrift in a lifeboat after their ship caught fire.
The men, who were fishing the waters around Alaska's western Aleutian Chain when disaster struck, were rescued by another crab boat, "Aleutian Beauty," that responded to a Coast Guard call, and no one was hurt, according to officials. The crew had abandoned the 59-foot Kodiak-based longliner "Western Venture" after it caught fire hours earlier.
[pullquote]
"The assistance of good Samaritans, like the crew of the Aleutian Beauty, is vital to saving lives in Alaska where we are regularly faced with harsh conditions and vast distances," Lt. Colin Boyle, a search and rescue controller with the 17th District command center in Juneau, said in a statement.
"Thank God! My son was one of the crew on board this vessel; all are fine and heading for Adak. Thank God!!!!!!" read a message posted by Jim Pickett, on the KUCB website.
The crew members deployed their survival suits, waterproof suits that protect against hypothermia. The Aleutian Beauty was first on the scene, and the Coast Guard sent two Jayhawk rescue helicopters -- one from Cold Bay and another from Kodiak -- as well as a pair of C130 Hercules aircraft. The cutter Waessche, on patrol in the Bering Sea, was also diverted toward the location of the Western Venture, about 70 miles west of Adak.
The Western Venture was still afloat and on fire, according to the Coast Guard. It could have as much as 4,300 gallons of fuel to burn, and officials were warning ships to give it a wide berth while the fire is investigated and a determination is made as to whether the ship will be salvaged or scuttled.
Commercial fishing is the most dangerous job in America, according to the Bureau of Labor Statistics, and crabbing in the Bering Sea, where the hit Discovery Channel reality show "Deadliest Catch" is shot, is by far the most lethal form of fishing. But new regulations and safety procedures, such as those apparently followed by the five crew members aboard the Western Venture, are credited with a significant decline in the industry's death rate. There has only been one death in the Alaskan crab fishing industry in the past six years. In the 1990s, there was an average of 7.3 deaths a year, according to Edward Poulsen, director of the Alaska Bering Sea Crabbers.