Feds confident they have man who sent poison ricin letters to Obama, others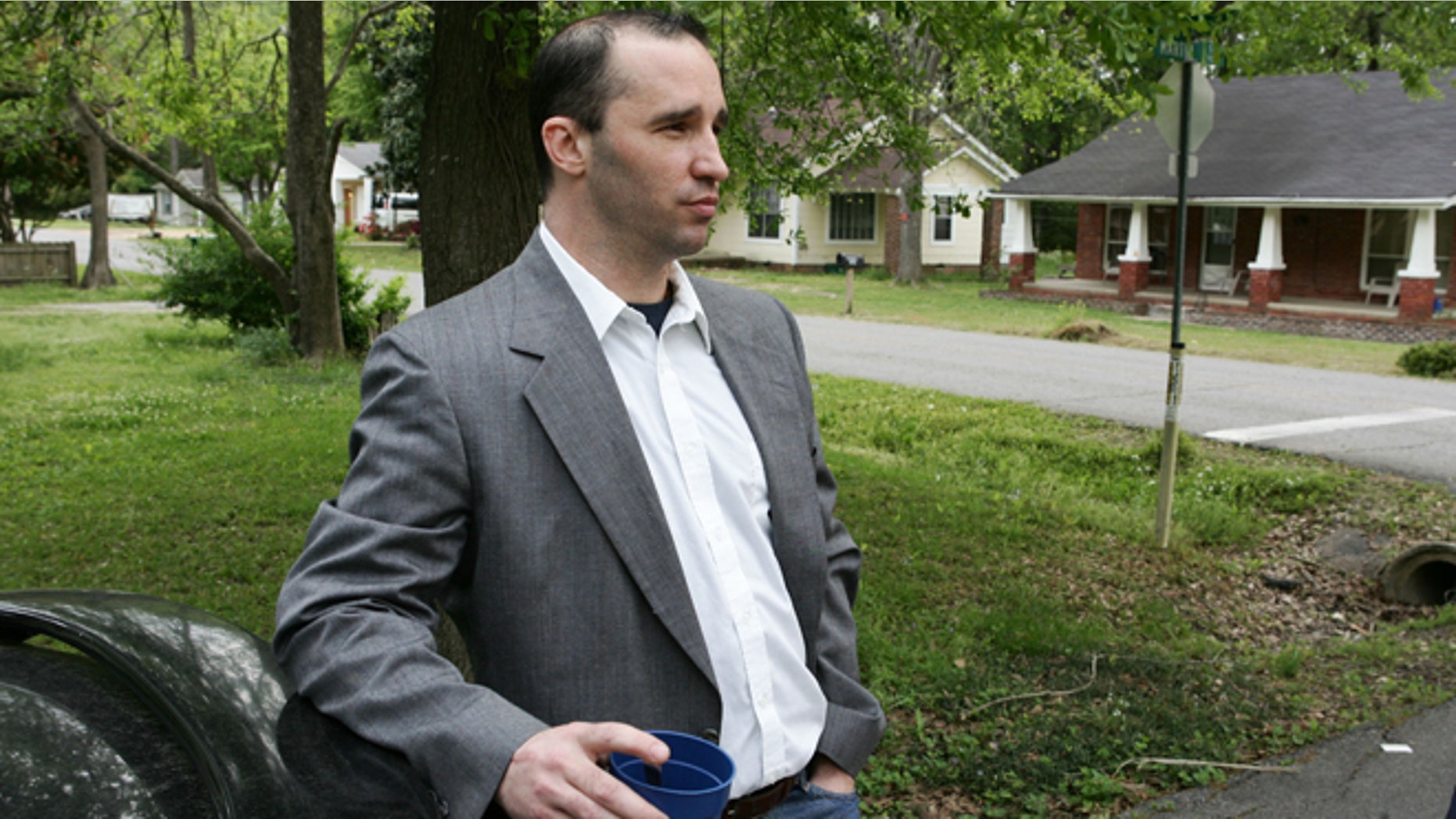 BRANDON, Miss. – Federal investigators probing who sent potentially deadly letters to President Obama, a senator and a judge believe they have the right man -- this time.
The letters, which were sent on April 8 with Memphis postmarks, sparked a national furor and recalled instances in 2001 and 2003 when deadly chemical agents were mailed to public figures. This time, investigators moved fast and arrested Paul Kevin Curtis, a Mississippi man known for writing lengthy screeds to and about various politicians. But within days, he was cleared and a new suspect -- accused child molester James Everett Dutschke -- emerged.
Shackled and in leg irons, Dutschke, 41, appeared in Federal Court in Oxford, Miss., Monday, where he was charged with "knowingly developing, producing, stockpiling, transferring, acquiring, retaining and possessing a biological agent, toxin and delivery system, for use as a weapon, to wit: ricin." He faces life in prison if convicted. Like the first suspect, he claims he is innocent.
[pullquote]
"I'm a patriotic American," Dutschke told The Associated Press. "I don't have any grudges against anybody. ... I did not send the letters," Dutschke said.
Neither President Obama, Sen. Roger Wicker, R-Miss., nor Sadie Holland, an 80-year-old county judge from Mississippi, was hurt. Ricin, made from castor beans, is, in its milled form, 6,000 times more poisonous than cyanide and a dose the size of two grains of salt can kill. Lawmakers' mail has been opened at a special facility ever since the infamous anthrax letters that were mailed to several targets in 2001, allegedly by a government scientist who later committed suicide, and the unsolved 2003 ricin letters sent to two targets including the White House.
Suspicion turned to Dutschke shortly after Curtis was freed. Because the letters ended with a phrase Curtis frequently used in blogposts, letters and various web rants, investigators believe the real letter writer was trying to make it appear they were the work of Curtis. When investigators asked Curtis for a list of people who might mean him harm, Dutschke's name came up, according to reports.
Curtis, a sometime Elvis impersonator, has been angry -- and some friends say mentally ill -- since an incident more than a decade ago in which he claims to have uncovered a black market body parts scheme while working as a janitor at a mortuary. Although Curtis apparently never convinced authorities of what he'd allegedly uncovered, Dutschke had once planned to write a book with Curtis about the case before the two had a falling out.
"We are relieved but also saddened," said Curtis' attorney, Christi McCoy. "This crime is nothing short of diabolical. I have seen a lot of meanness in the past two decades, but this stops me in my tracks."
Dutschke's house, business and vehicles in Tupelo, Miss., were searched earlier in the week, often by crews in hazardous materials suits, and he had been under surveillance. Dutschke's attorney, Lori Nail Basham, said Dutschke has cooperated fully with investigators and insisted he had nothing to do with the letters.
But Dutschke already had legal problems. Earlier this month, he pleaded not guilty in state court to two child molestation charges involving three girls younger than 16. He also was appealing a conviction on a different charge of indecent exposure.
Judge Holland also is a common link between the two men, and both know Wicker. Holland was the presiding judge in a 2004 case in which Curtis was accused of assaulting a Tupelo attorney a year earlier. Holland sentenced him to six months in the county jail. He served only part of the sentence, according to his brother.
Holland's family has had political skirmishes with Dutschke. Her son, Steve Holland, a Democratic state representative, said he thinks his mother's only encounter with Dutschke was at a rally in the town of Verona in 2007, when Dutschke ran as a Republican against Steve Holland.
Holland said his mother confronted Dutschke after he made a derogatory speech about the Holland family. She demanded that he apologize, which Holland says he did.
Dutschke said Steve Holland exaggerated the incident, and that he has no problem with Sadie Holland. "Everybody loves Sadie, including me," he said.
The Associated Press contributed to this report.