FBI names Las Vegas slaying fugitive to nation's Top 10 list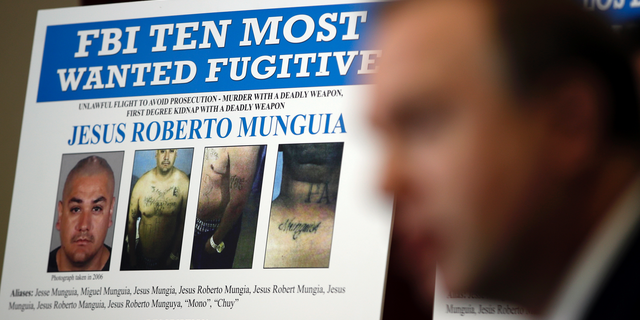 LAS VEGAS – A fugitive in a 2008 Las Vegas murder was named to the FBI Top 10 most wanted list on Monday, amid pleas for justice from tearful relatives of the mother of four he is accused of killing when she tried to leave him.
"This has been a horrible crime," Assistant Clark County Sheriff Tom Roberts said of the beating and asphyxiation death of 29-year-old Sherryl Sacueza.
Aaron Rouse, the FBI agent in charge in Nevada, announced a $100,000 reward for information leading to the arrest of Jesus Roberto Munguia.
Sacueza's hands had been bound and her skull was fractured before she was found dead early July 2, 2008, in the bloody back seat of an SUV parked at the house Sacueza had shared with Munguia and their four children.
Authorities said Sacueza left the house in the vehicle with Munguia, and her body was found with rope, a sweat shirt and vehicle jumper cables wrapped around her neck and the vehicle seat headrest. She had asphyxiated.
Munguia, now 41, was named within a week in a local murder warrant and a federal arrest warrant. Searches in Southern California, where he was born in Torrance, and in Bakersfield, where had family, failed to find him.
"No child ever deserves to go through what my father made us go through," said Dysabel Munguia, now 21 and living in Southern California with her family. She tearfully recalled the night she last saw her mother, and the next morning when her mother was missing. She declined to provide her hometown.
"The hardest thing about the situation is not being able to see my mom, and knowing that he's still out there," the daughter said. "It's been almost 10 years and justice needs to be served. We need closure."
Sacueza's mother, Noema Gonzalez, says she thinks Jesus Munguia is living somewhere under a new identity.
Retired Las Vegas police Detective Jeff Rosgen, who continues to investigate the case, told The Associated Press he believes Munguia is living in Mexico. Rosgen said he didn't know exactly where.
The FBI said that at the time of the slaying that Munguia was a documented member of a Los Angeles-area street gang, Tepa 13, with ties to the Jalisco area of Mexico.
His elevation to the 10 most-wanted list came after the arrest in August of 29-year-old Luis Macedo in the Mexican city of Guadalajara. Macedo had been sought in the Chicago area in a 2009 beating, shooting and burning of a 15-year-old by several alleged Latin Kings street gang members.
Munguia becomes the sixth federal fugitive from Las Vegas named to the Top 10 list since 1950, according to the FBI. Ten have been arrested in the Las Vegas area.