Explosion in New York City believed to be 'intentional,' mayor says; 29 injured
Authorities on Sunday vowed to bring to justice the person responsible for planting an explosive device in a New York City neighborhood, as officials downplayed the possibility of an international terror connection to the fiery Saturday night blast.
All 29 people injured in the explosion, which happened on West 23rd Street in New York City's Chelsea neighborhood, had been released from area hospitals by Sunday morning, Gov. Andrew Cuomo said during a news conference. Authorities were now squarely focusing on who placed the explosive device on West 23rd Street, and a second, unexploded device four blocks away.
Click to see video of the explosion.
"Whoever placed these bombs we will find, and they will be brought to justice. Period," Cuomo said. "We will not allow these types of people and these types of threats to disrupt our life in New York."
Officials did not believe the New York blast had any connection to several pipe bombs found earlier Saturday along the route of a charity run in New Jersey, Cuomo said. He added there was no link to an explosive device found in July in Central Park.
"No evidence of an international terrorism connection with this incident, but it is very, very early in the investigation, and it's just starting," Cuomo said.
The blast appeared to originate from a construction toolbox in front of a building at around 8:30 p.m., a law enforcement official told The Associated Press. A garbage can was found mangled nearby.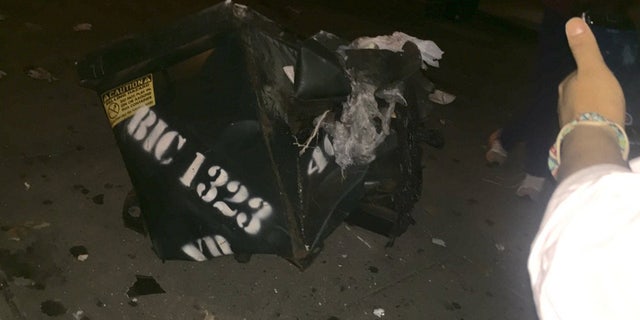 Less than three hours after the explosion, investigators located a pressure cooker inside a plastic bag at West 27th Street that was attached to wiring and a cellphone, a law enforcement source told Fox News. It was not clear what was inside the device. Police advised residents of the block where the pressure cooker was found to stay away from windows facing 27th Street.
Cuomo said the device on 23rd street and the device on 27th street were "both similar in design."
Early Sunday, police said the pressure cooker had been removed from the area and would be taken to the department's firing range in the Bronx for further analysis. Pressure cooker bombs placed inside garbage cans were used by the terrorists who bombed the Boston Marathon in 2013.
"At this point, no individual or group has called to claim responsibility," Police Commissioner James P. O'Neill said on Sunday.
Fox News was told there had been no prior intelligence suggesting Saturday's events may have been imminent.
Witnesses said the explosion blew out the windows of businesses and scattered debris in the area. One witness told Fox News the explosion sent a "big cloud of black smoke" into the air as people ran from the scene. Another said a fireball shot into the air as a nearby building shook.
Jon Avidor, who lives near the blast site, said mirrors fell off his walls when the explosion occurred.
"I thought it might be a bomb just because it felt like one," Avidor told "Fox & Friends."
The blast happened in front of a residence for the blind, near a major thoroughfare with many restaurants and a Trader Joe's supermarket.
"This is the nightmare scenario, or one of the nightmare scenarios," Cuomo said. "And your mind immediately goes to, 'Was anyone hurt? Was anyone killed?' And luckily, depending how you look at it, 29 injuries -- but no fatalities."
Cuomo said, in light of Saturday's incident, the city would deploy nearly 1,000 additional cops and National Guard troops to police bus terminals, airports and subway stations.
The White House said President Barack Obama has been apprised of the explosion, which came hours after a pipe bomb exploded in Seaside Park, N. J. That blast occurred shortly before thousands of runners participated in a charity 5K race to benefit Marines and sailors. No injuries were reported.
Republican presidential nominee Donald Trump described the incident as a "bomb" going off and Democratic nominee Hillary Clinton said she had been briefed on "bombings in New York and New Jersey."
Fox News' Matt Dean, Peter Doocy, Kelly Chernenkoff, Bryan Llenas, Chad Pergram and The Associated Press contributed to this report.