EXCLUSIVE: 'BMWs' Help Afghans Go AWOL From Texas Air Base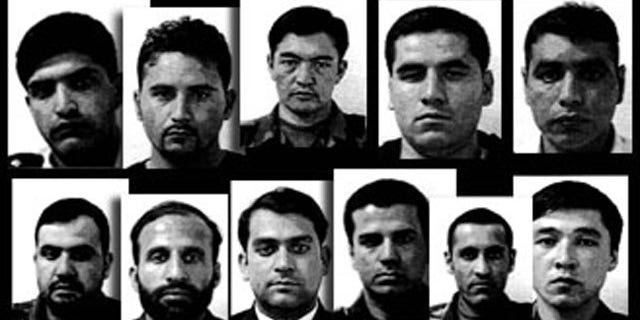 A loose network of Mexican-American women, some of whom may be illegal immigrants, have been responsible for helping numerous Afghan military deserters go AWOL from an Air Force Base in Texas, FoxNews.com has learned.
Many of the Afghans, with the women's assistance, have made their way to Canada; the whereabouts of others remain unknown. Some of the men have been schooled by the women in how to move around the U.S. without any documentation.
The Afghan deserters refer to the women as "BMWs" — Big Mexican Women — and they often are the first step in the Afghans' journey from Lackland Air Force Base in San Antonio, Texas, to Canada, a diplomatic official told FoxNews.com. He requested anonymity because he is not authorized to speak publicly during an ongoing investigation by U.S. and international authorities into who helped the Afghans leave the Defense Language Institute's English Language Center at Lackland.
The official's account was supported by a source at the Defense Language Institute (DLI), who also requested anonymity. Foreign soldiers attend DLI to learn English before they receive specialized military training at various installations in the U.S.
The Afghan military men usually meet the women at three nightclubs in San Antonio, according to the DLI source, who accompanied some of the men to these locations and has been privy to discussions among them about the establishments and the women. The nightclubs include two military hangouts — Tiffany's Cocktails and Mirage, located outside Lackland's main gate — and Graham Central Station, a massive warehouse-like building in downtown San Antonio that houses "six nightclubs under one roof" that host a variety of theme nights. Photos on Graham Central's website show scantily clad women rolling around in what appears to be Jell-O.
In the past eight years, no fewer than 46 members of the Afghan military have gone absent without leave from DLI. As most Afghans on the base do not have cars, many of them depended on the women to pick them up at Lackland's back gate in the middle of the night and help them vanish.
Many of the men decided to go AWOL just hours before they were scheduled to fly home to Afghanistan, multiple sources told FoxNews.com.
In one instance, a student, Ali Karimi, who is now living in Toronto, spent hundreds of dollars on books and materials to take home to Afghanistan, where he was supposed to teach English. But he vanished less than a week after purchasing the textbooks — and just hours before his flight was due to depart.
Another student, Bahram Mohmand, described by friends as the most unlikely of the 46 to go AWOL, decided at the very last minute not to go home. A pilot with two wives and more than a dozen children, he failed his final exam and felt too humiliated to face his family, the sources said. He vanished in March, and the sources said he could not have gotten away from Lackland without help.
"It must have been a BMW, because he had no money," a source said. "He was not planning this. He made a stupid, stupid decision because he was afraid to go home a failure. He could not do this without help."
The women are believed to have been responsible for picking up numerous other Afghans — including the most recent deserter, Mirza Gul Neshat, who disappeared on July 1 — and for chauffeuring them on at least the first leg of their journey. In some instances, the women were the Afghans' girlfriends; some of the men moved in with women off base just months before they went AWOL. Sources named one of the deserters, Javed Aryan, as being among the men who had a local girlfriend. According to officials at Lackland, Aryan disappeared in January 2010, though documents obtained by FoxNews.com indicate that he left DLI in October 2009.
The women who help the deserters are like groupies, sources told FoxNews.com. Many are single and older than the Afghans, who tend to be in their early 20s. If an Afghan needs a ride, they'll pick him up. If they're needed to run errands — or to take them away from the base in the middle of the night — they will be there at a moment's notice, the sources said.
But the women do more than drive the "getaway cars"; sources said they also provide the deserters with crucial advice and encouragement, apparently drawn from their own personal experiences. The women, they said, have told some of the men that it's possible to live in the U.S. illegally.
"These guys, they want a better life, but they're scared to run away without their passports or identification, they're scared they'll get caught," a source who has assisted in the multiagency investigation said.
"These BMWs say, 'It's OK.' Then poof, they're gone."
The official said most of the students were too afraid of life on the run to ever consider going AWOL — until they met the women, who assured them that many people live illegally in the U.S. and in Canada without getting caught or deported.
"They hear stories from them about people who do it … some of their family came here illegally, some of them I think are not legal themselves," said the official.
"They say, 'See, it's OK. I am fine. I will help. No problem.' And the students listen and then they go."
Multiple sources at DLI and at Lackland said security footage from the Air Force base would likely show the women's cars pulling up to the gate and picking up the Afghans around the time of their disappearance. Air Force officials said they could not discuss security measures or confirm or deny the existence of such surveillance cameras.
The network of people helping the deserters goes beyond the women and includes former AWOL Afghans and their supporters throughout the U.S. and in Canada, the sources said. Some of the Afghans are believed to have fled DLI thanks to the help of a single American woman.
A woman was taken into custody last winter for her alleged role in helping at least one Afghan — Javed Aryan — get from San Antonio all the way to the Canadian border. Aryan got caught with an American woman while trying to sneak across the border into Canada in January. The woman was placed into custody, sources close to the investigation told FoxNews.com, but Aryan was allowed to continue on his journey. He is now living with his three brothers in Canada.
The Department of Defense deferred all inquiries to the Department of Homeland Security's Immigration and Customs Enforcement, which officials from numerous U.S. agencies have called the lead agency responsible for the AWOL Afghans and issues involving illegal immigrants who may have assisted them.
FBI spokeswoman Denise Ballew told FoxNews.com two weeks ago, "We have an interest in locating these individuals and we'll refer other questions to ICE."
After nearly two weeks of communication with an ICE spokesman who assured FoxNews.com that he was working on the requests for additional information and for comment, that spokesman suddenly said he would no longer be able to assist and deferred all questions and requests for comment to the Department of Defense.
The Department of Defense, again, recommended contacting ICE.
U.S. Customs and Border Protection did not respond to requests for comment.
Interpol told FoxNews.com to "contact the authorities in the countries where you believe there may be an investigation ongoing."