Ex-teacher arrested after spat with two black service members over parking spot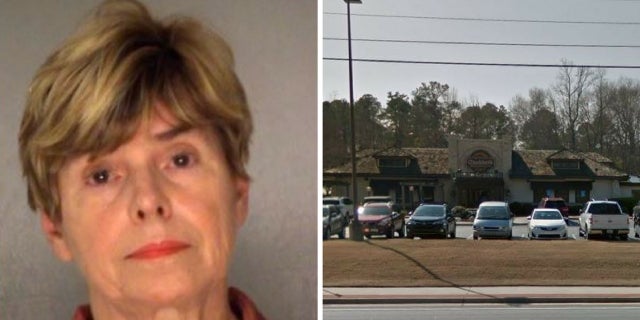 NEWYou can now listen to Fox News articles!
A former Georgia teacher found herself under arrest after a video showed her and her son getting into a spat with two black female service members over a parking spot outside a Georgia restaurant.
Judy James Tucker, 71, told the Bibb County Sheriff's Office deputies that the argument Saturday began over race.
Stephanie Mitchell, 34, told police that Tucker and her son, Robbie, used obscene, sexist language as he told her and Treasure Sharpe, 27, to "learn how to park," according to authorities
Police said the Tuckers followed the two uniformed women inside Cheddar's Scratch Kitchen in Macon, where Robbie Tucker called them "black lesbian b------."
Sharpe started recording Tucker, her son and her daughter inside the restaurant following Robbie Tucker's comment. The video captured Tucker's daughter attempting to lunge at Sharpe in order to block the phone's camera. Other people inside the restaurant also started recording the incident.
"Are you aware that you assaulted my mother?" Tucker's daughter asked Sharpe. "Are you aware? My mother is bleeding."
GEORGIA WOMAN WON'T FACE DEATH PENALTY FOR ATTACK ON FAMILY
Tucker told the women, "You were getting in our way while we tried to park."
Footage appeared to show Tucker striking Sharpe in the face while trying to stop her from recording as well. At one point, Sharpe says, "I'm pregnant," and Robbie Tucker says, "Oh really, by her?"
"I'm pregnant! Look at me, I'm pregnant! You're pushing a pregnant lady!" Sharpe is heard saying in the video. Tucker is heard replying, "Well, my husband is handicapped!"
Police said deputies showed up at the restaurant and spoke to witnesses since the eatery's surveillance cameras were down due to technical issues. Deputies reviewed cellphone video and determined that Tucker was the primary aggressor, and there was no evidence the other women did anything wrong.
Tucker was arrested and charged with battery. She was released on $650 bond. The Macon Telegraph reported the woman could face more charges as the investigation continues.
MAN CONVICTED IN 1996 KILLING IN GEORGIA SET TO BE EXECUTED
Cheddar's released a statement condemning the behavior of the "individuals who confronted the two female service members," saying it "flies in the face of our values and those individuals are no longer welcome in our restaurant."
Tucker, an artist, has taught at a few colleges in Macon. A Mercer University spokesman told the Macon Telegraph that she taught there in the past but was not employed by the college.
"She has occasionally taught an art class in the past, but will not be teaching at Mercer in the future," spokesman Kyle Sears said.
The Associated Press contributed to this report.