Driver arrested in stolen vehicle crash that killed 5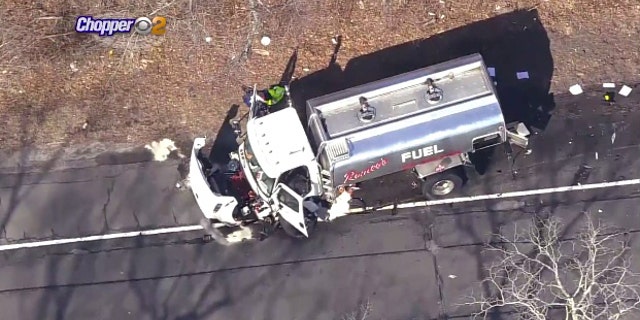 NEWYou can now listen to Fox News articles!
RIDGE, N.Y. – A man accused of crashing a stolen vehicle while fleeing police on Long Island on Wednesday, leaving five people dead, was arrested, police said.
Jamel Turner, 23, of Bellport, was driving a stolen Camaro when he crashed into an oil delivery truck and a Mazda, which struck another vehicle and burst into flames, authorities said.
It happened in the Suffolk County hamlet of Ridge, about 50 miles (80 kilometers) east of New York City.
All four people in the Mazda were killed. Police did not release their names. Turner's 19-year-old passenger, Lonidell Skinner, of Bellport, was thrown from the vehicle and died at the scene.
Suffolk County Police Chief Stuart Cameron said officers had tracked the stolen Camaro to an apartment complex when it sped away from them "at a high rate of speed." Police came upon the crash shortly after it happened, he said.
"Our patrol cars were some distance behind. That is going to be part of the investigation, but we do not believe our cars were in pursuit," Cameron said.
Denise Killoran, 45, of Middle Island, told Newsday that she was driving on the same road when she saw a speeding car coming up behind her.
"I was looking in the mirror and I saw this car going fast, like 100 mph (160 kph), so fast for that kind of road. I said to myself, 'Oh my God,' he is going to hit the car next to me," she said.
The Camaro swerved at the last second, kicking up dust and branches, said Killoran, adding that three police cars were following it.
Turner, who was hospitalized with injuries that were not life-threatening, faces charges including criminal possession of stolen property and false impersonation. More charges are expected. It was not immediately known if he has an attorney who can comment on the charges.
The driver of the oil truck also suffered non-life-threatening injuries.