Detective who said he'd 'take a bullet' for San Bernardino survivors speaks out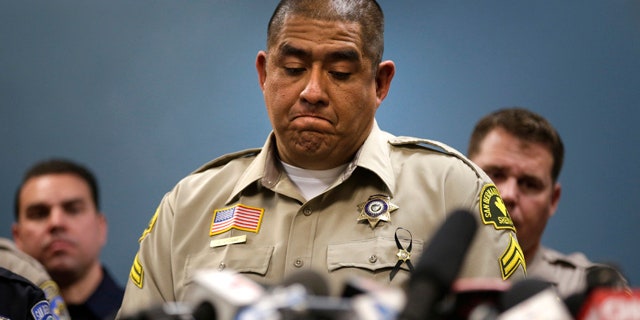 NEWYou can now listen to Fox News articles!
A sheriff's detective who won praise for his bold shepherding of frightened people out of the Southern California building where a couple opened fire last week shrugged off his heroism and newfound celebrity, saying he was only doing what was necessary and that the sight of a terrified child had inspired him.
"Try to relax everyone, try to relax, I'll take a bullet before you do, that's for damn sure," Det. Jorge Lozano said in a video captured in the hallway of the Inland Regional Center as he escorted employees and others who had been stranded in a hallway as the shootings went on in a conference room.
On Tuesday he talked about the moment for the first time at a news conference of first responders to the shootings.
He explained what inspired him to make the declaration.
"When they were passing me there was a female there with a small child that was just terrified, shivering almost, shaking like a leaf, and I said what I said. I meant what I said. Calm down, relax and we were going to do everything we could," Lozano said.
He said he had been scared himself when someone opened a door without announcing themselves, but knew the people he was responsible for were relying on him for comfort and calm, so he provided it.
"I don't feel like a hero whatsoever," Lozano said. "That's our job to put ourselves in the line."
The video — and the "take a bullet" line in particular — have made something of a celebrity out of Lozano, and he won the admiration of the public and his colleagues.
Lt. Mike Madden, another first-responder to the scene who was asked last week if it was him in the video replied, "No, I'm not that cool."
Officer Nicholas Koahou, the lone officer shot in the gunfight that killed the couple hours later, also spoke at the news conference, saying he's a former Marine who was determined to keep fighting even after he took the bullet.
Koahou was among the officers who came upon the couple as they stopped their SUV and opened fire.
"It was constant gunfire," he said. "At some point you just kind of stop hearing the shots there was so much noise."
He exchanged bullets with the man, Syed Farook, then ran to back up another deputy who was nearest the shooters.
Syed Farook went down in the street. Then Koahou was shot.
"I felt like somebody punched me in the leg," Koahou said.
The bullet had come from the wife, Tashfeen Malik, who was still firing from the back of the vehicle and shot him before she was shot and killed.
Koahou, standing on crutches at the news conference, said he looked down, saw the bullet hole and assessed himself and was determined to not give in, standing up before other officers came to take him away.
"I was in the Marine Corps and they taught us in training you're never out of the fight," Koahou said. "You've got to keep fighting."