Dems shift tactics, pound Wis. governor on probe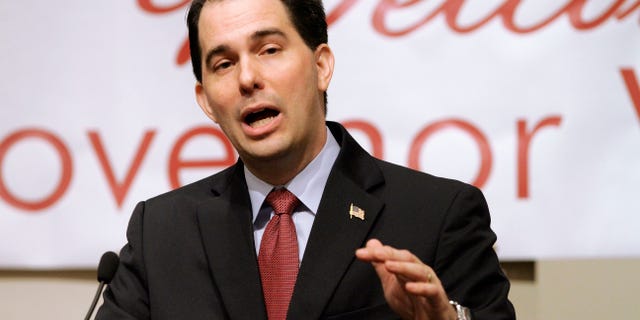 MADISON, Wis. – Lost in the hoopla over the effort to recall Wisconsin Gov. Scott Walker after he took on union rights is an ongoing secret investigation that has already ensnared a handful of the Republican governor's former aides.
The investigation by Milwaukee County's district attorney hasn't resonated with voters, but with the June 5 recall less than three weeks away Democrats have started playing up questions about why Walker created a criminal defense fund for himself and whether the governor might face charges next.
Walker has branded the strategy a "cheap political stunt," but Democrats are banking that the tactic will help them curry favor with the dwindling pool of undecided voters who could turn the election.
"The public deserves some answers as they try to decide who to vote for," said Jeremy Levinson, an attorney for the state Democratic Party. "He just needs to explain what's going on. It's that simple."
Republicans say Democrats are grasping for an edge as polls show Walker pulling ahead of Milwaukee Mayor Tom Barrett. The most recent Marquette University Law School poll, released Wednesday, showed Walker leading by 6 percentage points after the race was essentially a dead heat a month ago.
"When you're down or your message isn't playing the way you want it to in a tight race, you've got to find something else," said Brandon Scholz, a Madison lobbyist who has worked on a number of GOP congressional races across the country. "You've got to change that message and find something that sticks."
The push to recall Walker began last year after he championed a contentious law stripping most public sector workers of nearly all their collective bargaining rights. Democrats called it an all-out attack on organized labor, but Barrett's easy primary victory over an opponent backed by most of the state's major unions signaled the momentum for the collective bargaining argument may have started to fade.
Barrett moved on to beating up Walker over his inability to create jobs, harping on a U.S. Bureau of Labor Statistics report that found Wisconsin lost the most jobs of any state between March 2011 and March 2012.
Meanwhile, Milwaukee County District Attorney John Chisholm has been quietly investigating Walker's associates during the governor's tenure as Milwaukee County executive. Chisholm, a Democrat, has set the probe up as a so-called John Doe proceeding, meaning his prosecutors can subpoena witnesses and compel them to testify while barring them from speaking publicly about the case. Five people have been charged so far on allegations ranging from embezzling money from a veterans trust fund to campaigning on county time.
Walker has insisted he's not a target, saying he learned honesty as an Eagle Scout and his county office even alerted Chisholm to the embezzlement. The governor told The Associated Press on Thursday that Chisholm has asked him not to comment on the investigation and he will honor that request.
"Every step of the way ... people see the high standards I have, they see the integrity I have, that remains intact all throughout this," he said.
Nobody has indicated when the investigation might end or who else it might ensnare. However, Walker's state spokesman, Cullen Werwie, who essentially serves as the governor's public face in his dealings with the media, has testified in the closed-door probe in exchange for immunity.
And Walker has created a legal defense fund using campaign contributions. Wisconsin law allows officeholders to create such funds only if they or their agents are being investigated or have been charged with campaign or election violations. Walker has said he formed the fund to cover "expenses incurred in cooperating with the inquiry," but he hasn't elaborated on the probe.
Barrett, who has been jabbing the governor on the investigation for weeks, said Wednesday that Walker needs to clear the air because "when people realize what's going on, they're troubled by it."
Still, the issue hasn't seemed to have gripped voters. Marquette polls conducted since February have consistently shown most people either regard the investigation as politics as usual or don't know enough about it to form an opinion about whether it's truly serious.
"Either he's being investigated or he expects to be charged," said Sachin Chheda, who chairs the Milwaukee Democratic Party. "What kind of position would the state be in if we don't know the facts, there's an election and there's an indictment after the election?"
Dick Frasser, a 74-year-old retired fire inspector from Watertown, said he plans to vote for the governor in the recall, despite the investigation.
"It's typical politics," Frasser said. "Ethically and morally, I suppose he does (need to explain his part in the probe). But they should do this after the election. Prior to it, they're digging up all the dirt they can."
The liberal attack group Greater Wisconsin Committee launched a television ad last week questioning how Walker didn't know what his county employees were doing, and Barrett sent Walker a letter Tuesday demanding he disclose any advice state election officials may have given him that led to him forming his defense fund.
Walker campaign spokeswoman Ciara Matthews said in a statement that Barrett is resorting to political stunts to deflect voters' attention from high unemployment in Milwaukee and his refusal to explain how he would manage the state budget. She didn't address the investigation itself.
Asked Wednesday whether the governor was under investigation, Matthews responded by pointing to remarks Walker has made to the media since January saying people are twisting things, he's not the target of the investigation and he agreed to meet with Chisholm to discuss the investigation.
Scholz, the former Republican operative, said Walker has nothing to gain by responding directly to Barrett. Democrats have run out of issues and are merely trying to put Walker's camp on defense, he said.
"When you're down or your message isn't playing the way you want it to in a tight race, you've got to find something else," Scholz said. "You've got to scratch for an issue. A John Doe is sexy. They'll just throw it out there. If they can force the other side to lose a half-day, that's what they'll do."
___
Associated Press writer Scott Bauer in Hartland, Wis., contributed to this report.