Democrat North Carolina councilwoman sparks furor with post questioning 9/11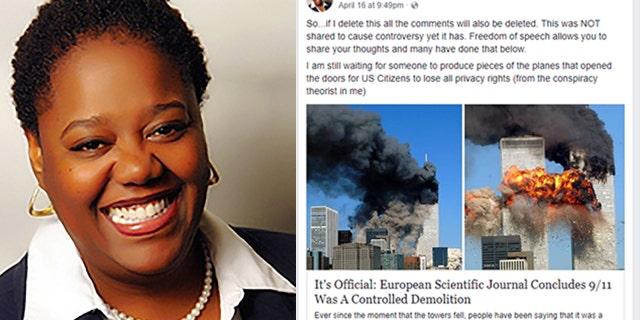 NEWYou can now listen to Fox News articles!
A North Carolina city official sparked a furor earlier this week when she promoted a conspiracy theory about the Sept. 11 terrorist attacks.
On Monday, LaWana Mayfield, a Democrat Charlotte City Council member, shared an article on her Facebook page titled "It's Official: European Scientific Journal Concludes 9/11 Was A Controlled Demolition."
"I am still waiting for someone to produce pieces of the planes that opened the doors for US Citizens to lose all privacy rights (from the conspiracy theorist in me)," she wrote above the link.
The post, which has been shared more than 100 times, sparked a nationwide backlash -- and a petition for her to resign from public office.
"Here's a little Freedom of Speech for you," commented Pepe Panuccio of New York, who identified himself as a former New York City police officer. "I am an eye witness to this event. I was there. Anytime you feel like debating the finer points, I challenge you to refute any eyewitness testimony. Garbage like this is an insult to all those that died that day, as well as the thousands who have become sick since then. Shame on you and shame on the people that elect irresponsible public officials."
On Tuesday, Mayfield edited the comments, but didn't delete the post or apologize for her remark.
"So… if I delete this all the comments will also be deleted," she wrote. "This was NOT shared to cause controversy yet it has. Freedom of speech allows you to share your thoughts and many have done that below."
Mayfield told WFAE that she posted the link to make a point. She said she doesn't believe 9/11 was a hoax but that there are still many questions that need to be answered.
"I believe this nation chose to take a horrific act and use it to not only create a way through government to spy on the American people, but also to privatize a lot of the work that is happening on the ground," she said, adding she does not plan on taking the post down.
A petition on Change.org is demanding Mayfield's resignation.
"By giving her imprimatur to this conspiracy theory, Mayfield has brought shame and disgrace upon herself, her district, her city and her state," the petition reads. "It is simply not acceptable for an elected official to use his or her platform to promote such claptrap. Mayfield needs to spare herself, the people of Charlotte and the people of North Carolina further embarrassment by resigning."
Members of the city council told WFAE they disagree with Mayfield's Facebook post.
"That's not the way I'd choose to provoke people to think about privacy, but LaWana is always provocative and makes no bones about it," council member Larken Egleston said.
City officials have not publicly called for her resignation or apology.
This is not the first time Mayfield's social media posts have caused controversy.
Last month, she sent a tweet that suggested a candidate for public office had posted photos of his genitals on the gay dating app, Grindr.
"Question for You all. When candidates and those that are extremely judgmental have a @Grinder page with pictures of their private parts should that be fair game? BTW #grindr is a same-sex site #knowwhoyoumaybevoting4."
In October, Mayfield also sent out a tweet comparing President Trump to Adolf Hitler.
"For All who read about Hitler you are Now living how he reigned in #45," she wrote in the tweet, which has not been deleted.
An hour later she sent another tweet again referring to Trump as "#45" and calling him a "Disgrace to the Nation."
She later apologized for the tweets, but did not back down from the sentiments conveyed, FOX46 Charlotte reported.
"While my words chosen have offended some, my intent was to bring attention to the continued crisis that we face each day while this president is leading us," she said. "My post angered some and I stay in a state of anger every day I watch the news, and this like many posts was shared to shine a light on hypocrisy and the discourse rising in our Nation."