Dead humpback whale found washed ashore in New York amid uptick in endangered whale deaths along East Coast
The dead whale was found around 6:30 a.m. on Lido Beach in Nassau County
A massive humpback whale was discovered washed up on the shores of Long Island, New York on Monday, the latest in a series of incidents in which a rash of dead whales have been spotted in the surrounding waters in recent months and along the East Coast.
The dead whale was found around 6:30 a.m. on Lido Beach in Nassau County, Fox New York reported. Emergency crews were trying to figure how to dispose of the marine mammal.
"This is by far the largest," Hempstead Town Supervisor Don Clavin told News 12. "The crews that have been here for almost two decades have never seen a whale this size. It's 35-feet-long. Just pulling it up on the shore, we had to bring in a heavy crane. And the wires were snapping because of the tonage it was required to really bring it to higher ground.
NJ CONGRESSMAN DEMANDS INVESTIGATION INTO WHETHER OFFSHORE WIND PROJECTS ARE KILLING WHALES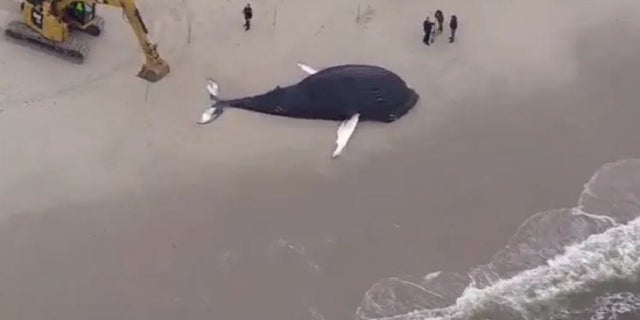 The whale was moved farther up the shore, the New York Post reported. Monday's incident came two weeks after a dead whale was found dead on the New Jersey coastline.
Nine whales – including two sperm whales and seven humpback whales – have been found dead off the coasts of four East Coast states in less than two months, according to federal environmental officials. The discovery of the whales, five of which were beached in New Jersey, sparked calls from environmentalists to halt offshore wind development until more information was known about their deaths.
New Jersey based Clean Ocean Action is asking the federal government to probe the deaths of six whales that has washed a shower and want to see if construction work or offshore wind farms are to blame.
Some groups believe the projects should be scaled back but not halted altogether.
There are currently three offshore wind projects being constructed off the coast of New York in federal waters and another four projects in federal waters off the coast of New Jersey, according to Bureau of Ocean Energy Management (BOEM).
CLICK HERE TO GET THE FOX NEWS APP
Fox News' Thomas Catenacci contributed to this report.