Criminal charges won't be filed in Conn. Christmas fatal fire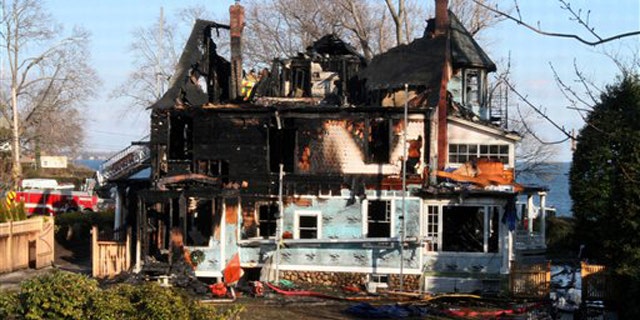 NEWYou can now listen to Fox News articles!
NEW HAVEN, Conn. – Criminal charges won't be filed in a Christmas morning house fire that killed three girls and their grandparents, a prosecutor said Friday.
The fire killed 7-year-old twins Grace and Sarah Badger, 9-year-old Lily Badger and their grandparents Lomer and Pauline Johnson. The girls' mother, Madonna Badger, and her friend Michael Borcina escaped the fire. Officials say embers in a bag of discarded fireplace ashes sparked the blaze.
Stamford State's Attorney David Cohen said Friday that some precautions were taken and that while in hindsight they were insufficient, they didn't rise to the level of criminal negligence.
"When such a horrific event occurs, it is only natural that those related to the victims and the public in general want to hold someone responsible for what is otherwise an inexplicable accident," Cohen wrote in his conclusion. "I am aware that many have emotionally judged this circumstance differently. That is understandable. There is no way that I could begin to conceive of the depth of loss by the Badger family."
"However," Cohen continued, "where so much is unknown or in dispute, where the facts are inconclusive and where the safety of the public will not be enhanced, I have decided to exercise the discretion given to me by our state constitution and by my oath of office and decline, at this time, to prosecute."
The girls' parents have filed notices that they plan to sue Stamford, accusing officials of intentionally destroying evidence when they demolished the tony shoreline home a day after the fire.
Cohen said "regrettably" the house was demolished and in the future the police department and prosecutor should be consulted before any demolition is carried out. Cohen, who said the investigation "was hampered to some degree" by city officials, said the local fire marshal should notify the state fire marshal and give that agency an opportunity to assist with the investigation so that a second opinion on the cause and origin can be determined.
Cohen said it was impossible to physically inspect the remains of the house to determine if any working smoke detectors were present in the debris, noting that debris was removed before such an inspection could be performed. He said there was no consensus on how many smoke alarms were present, where they were located or whether they had been removed or disabled, though the survivors said they didn't hear any smoke alarms.
Richard Emery, an attorney for Matthew Badger, the girls' father, slammed Stamford officials for demolishing the house so quickly, saying it hampered an investigation. He said a building official responsible for the demolition should be fired.
"These are circumstances which are truly outrageous in the wake of what has to be one of the worst tragedies in Connecticut, let alone in Stamford," Emery said.
Messages were left for city officials, who have said the house was torn down because it was unsafe.
Cohen said Borcina cleaned out the fireplace around 3:30 a.m., shoveling the ash into a paper bag. Borcina said he smoothed out the ashes with his hand and that allayed any concerns Madonna Badger had about any live embers being present, Cohen said.
The bag of ashes was then placed in a plastic storage box which was then deposited just inside the exterior door in the mudroom, Cohen said.
"It is my opinion that there is insufficient evidence to establish that either Mrs. Badger or Mr. Borcina were aware of and consciously disregarded a risk that there was a possible live ember in the ash that could result in a catastrophic fire," Cohen wrote. "It stretches belief to think that they would consciously disregard the danger and go to sleep, much less that they would disregard any danger to the Badger children or Mrs. Badger's parents."
Borcina's attorney, Eugene Riccio, said he was grateful for the decision.
"Unfortunately, there's been some very unjustified criticism of Mr. Borcina in this terrible tragedy," Riccio said.