Coroner closes investigation into 8-year-old boy's suicide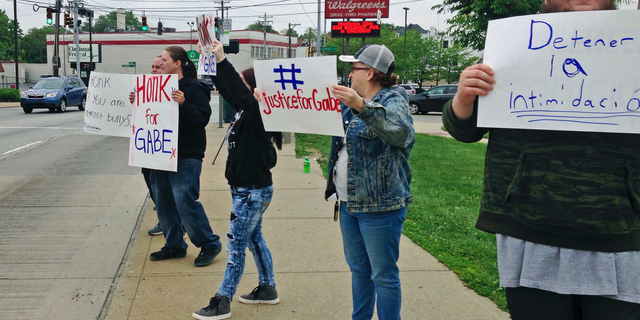 CINCINNATI – A coroner's second investigation into the death of an 8-year-old Ohio boy who killed himself in January after his mother said he was bullied at school has been closed, with no additions to the original finding of suicide, the coroner's office said Thursday.
The statement from Hamilton County coroner Dr. Lakshmi Sammarco's office said a review of additional investigative information regarding Gabriel Taye found nothing that would alter the death certificate.
"This review did not reveal any information inconsistent with our original findings," according to a statement. "We have closed the investigation."
The coroner's office did not specify the additional investigative information referred to in the statement, but that office had opened Gabriel's grave in June to remove the boy's electronic tablet that his mother said she buried with him to ensure that he had "something to play with in heaven."
The coroner's statement at that time said the body wasn't disturbed and the tablet was removed on behalf of the county prosecutor's office.
County Prosecutor Joe Deters had said his office also was looking into the death. Deters' spokeswoman, Julie Wilson, said Thursday that the prosecutor's office has not released any findings. Deters was out of town, and couldn't be reached immediately for comment.
Attorneys for Gabriel's family had released a statement when Gabriel's grave was opened saying the family consented to the exhumation, hoping a forensic examination of the tablet would provide more information about what happened and because "they are so desperate for answers."
That statement said the mother also asked for a re-examination of her son's body since the exhumation was going to proceed, and was disappointed a re-examination unfortunately "wasn't possible."
On Thursday, the family's attorneys released a brief statement saying that the family would like to thank the coroner "for her attempt to determine the contributing factors that caused his death."
"We will be continuing our investigation into the bullying that contributed to his death," the statement said.
Attorneys representing Gabriel's mother, Cornelia Reynolds, had said earlier that she didn't learn her son was bullied until they saw an email written by a Cincinnati police detective describing the scene outside a boys' bathroom where the attorneys say Gabriel was knocked unconscious. He hanged himself two days later at his home on Jan. 26.
The Cincinnati Public Schools district has said the boy told staff he had fainted and never said he had been bullied or assaulted. The district in May released copies of a choppy 24-minute-long video that shows one boy bullying other students. The mother's attorneys say he pushed Gabriel into a wall, knocking him unconscious.
The district also noted that police had reviewed the video and no charges were filed.