Cookie dough covers North Carolina highway after truck accidentally dumps 20 tubs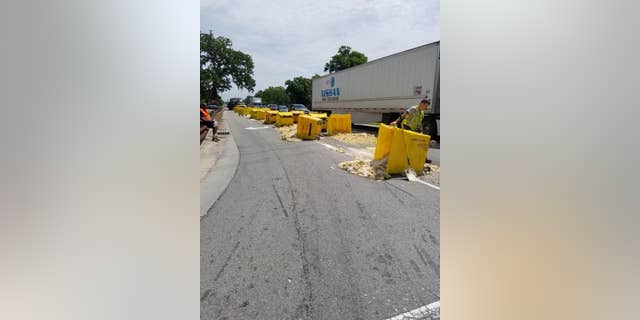 NEWYou can now listen to Fox News articles!
A cookie lover's dream turned out to be a nightmare for commuters as a truck spilled loads of cookie dough along a North Carolina highway this week.
"Expect delays and watch out for clean up crews if you are heading south on Highway 17 through Scotts Hill in the area of Sidbury Road," the Pender EMS & Fire warned in a Facebook post on Tuesday.
"Such a waste of cookie dough!" one Facebook user replied to the message.
"Cooking dough. I bet that was interesting to watch," another added.
The trail of the sticky dough didn't result in any accidents but it did reportedly cause a major traffic jam ahead of the evening rush.
MICHIGAN DEPUTIES STUNNED TO FIND 8 BENGAL TIGERS AT SCENE OF SEMI-TRUCK CRASH
"When the light turned green, the truck accelerated and that's when the door on the back opened and about 20 big rolling carts of dough started falling out," WECT reported.
Locals began to question why the truck was carrying the dough in open containers.
"Even more interesting is wo do they cook it for and feed it to," one user mentioned.
"Open transported in a truck...that's sanitary," another wrote.
A Pender county official told StarNewsOnline "it could have been waste -- stuff they've thrown away."
News of the spill comes a few days after a Polish highway was shut down May 9 when a tanker truck full of liquid chocolate crashed and spilled its contents across the road.
Fox News' Gary Gastelu and The Associated Press contributed to this report.