College Republican says he got violent threats after he asked Muslim group to condemn terror attacks
The president of a student Republican club at San Diego State University (SDSU) said he received anonymous threats of violence and calls for his resignation after he penned a letter asking for the school's Muslim association to condemn the recent terror attack in Barcelona.
The Republican club's president, Brandon Jones, posted the letter to Facebook on Aug. 17 addressed to the SDSU Muslim Student Association (MSA), calling for its leaders to condemn last week's terror attack — or resign.
The letter — referred to as a "formal request" — calls for the MSA to abide by its mission statement, which the letter claims reads: "The Muslim Student Association is an organization dedicated to creating a sense of community and an inclusive environment for ALL students on campus…"
But the group lists a different mission statement online.
HIGH SCHOOL STUDENTS SAY THEY WERE HARASSED AT HOWARD UNIVERSITY FOR WEARING PRO-TRUMP GEAR
Jones' letter stated that the campus community "cannot move forward in creating an inclusive environment for all students on campus" until the Muslim organization condemns the Barcelona attack.
The letter continued, stating that if leaders of the MSA don't condemn the attack and similar radical Islamic terrorist attacks, the College Republicans would ask for the resignations of the club's president and other leaders.
"I stand by the statement we made," Jones told Fox News. He said his letter has the support of SDSU's College Republicans, and that "fellow college Republican organizations across the nation have come out in support."
The MSA didn't respond to a request for comment, but wrote on Facebook that the MSA expresses its "support for victims of white supremacy, nationalism, and terrorism. Our solidarity is what makes us strong and we must continue to work together to make our college campus a safe place for all students."
Other groups on campus — the Young Democratic Socialists and Transfronterizo Alliance Student Organization, neither of which responded to requests for comment by Fox News — have taken to Facebook to condemn the letter by College Republicans.
The Young Democratic Socialists called Jones' letter a "cruel and bigoted attack" against the MSA, and claimed the College Republicans group was "making Muslim students feel even more unsafe on their own campus" by suggesting MSA members "will be considered terrorist sympathizers unless they condemn an attack they had nothing to do with."
COLLEGE CLEARS PROFESSOR'S CONTROVERSIAL FACEBOOK POSTS
A statement by the Transfronterizo Alliance Student Organization calls for "the immediate removal" of Jones as club president, because they claim "he has shown an extremist nature in his leadership style." It also calls for the leadership of the College Republicans to be "held under probation."
The group claims it aims to create an "inclusive campus environment for SDSU students who live a transborder lifestyle," as noted by The College Fix.
Jones said he's received threats of violence anonymously, and he's even heard he might be the subject of a protest at SDSU this week.
One alleged threat sent anonymously via text message stated, "I hope you rot in he'll (sic). We're coming for you this week ... Watch ur back every step u take. SDSU campus will be the war zone against u inhuman rats."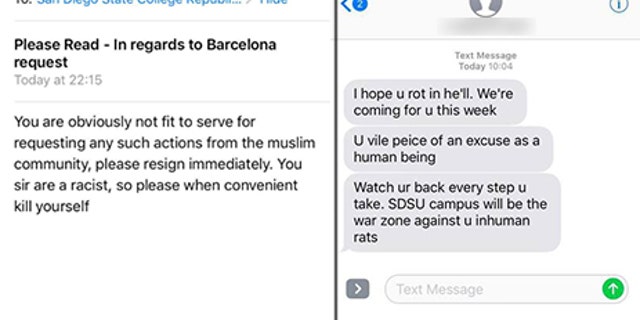 "You are obviously not fit to serve for requesting any such actions from the muslim community, please resign immediately. You sir are a racist, so please when convenient kill yourself," an email threat said.
Jones said he also received an anonymous phone call from somebody who vowed to protest this week for his resignation and expulsion.
Jones said he received a call Wednesday afternoon from campus police, as well the Dean of Students, Dr. Randy Timm, to offer him use of campus safety resources.
When asked to confirm if school officials contacted Jones, SDSU told Fox News that the school "takes seriously the well-being and safety of all our students, faculty, and staff. When alerted to any safety concerns from our campus community, university representatives have standard guidelines and procedures to proactively reach out to individuals and/or groups to discuss their safety and provide guidance as well as support."
SDSU also said there was no confirmation of a protest scheduled on campus this week.
In response to the calls for violence against him, Jones, via online correspondence, said, "I think that again it just shows the hypocrisy of the left when it comes to vioelence (sic)."