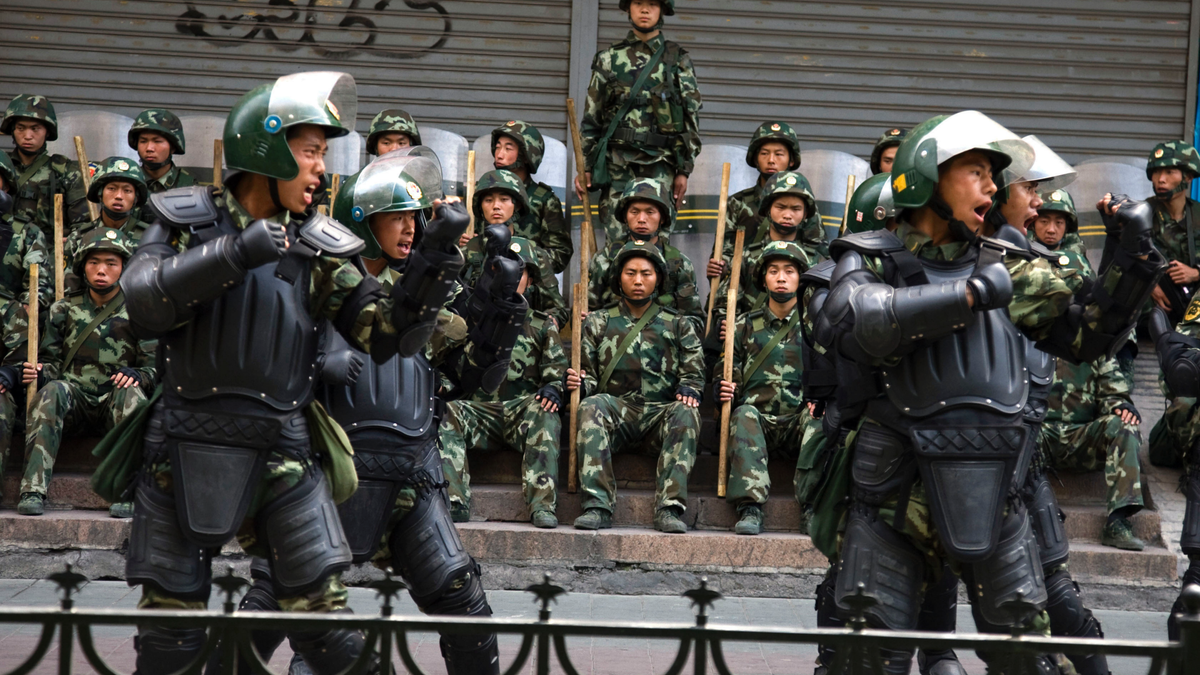 BEIJING – China said Thursday that U.S. lawmakers were wasting taxpayer money by urging President Donald Trump's administration to impose sanctions on Chinese officials allegedly tied to the mass internment of ethnic minority Muslims in camps in the far west.
The lawmakers sent a letter to Secretary of State Mike Pompeo and Treasury Secretary Steve Mnuchin urging the government to apply sanctions to address the "ongoing human rights crisis" in the region of Xinjiang (SHIN'-jhang), in the latest sign that the detentions are raising concerns among Western leaders and governments.
Muslim ethnic minorities in Xinjiang are being detained and tortured and face "egregious restrictions on religious practice and culture" and other abuses, said the letter, which was signed by Florida Sen. Marco Rubio and New Jersey Rep. Chris Smith and 15 others. It was provided to the media on Wednesday.
The letter singles out Xinjiang's top official, Chen Quanguo, accused by many of turning the region into a police surveillance state and implementing a system of internment camps, also known as "re-education centers," where members of the Uighur ('WEE-gur) and other Muslim minorities are locked up for months without trial.
"The detention of as many as a million or more Uighurs and other predominantly Muslim ethnic minorities in 'political reeducation' center or camps requires a tough, targeted, and global response," the letter said.
Former detainees who spoke to The Associated Press described the internment camps as facilities policed by armed guards where Muslims were forced to disavow their religious beliefs, criticize themselves and their loved ones and give thanks to the ruling Communist Party. Beatings and deaths have been reported despite authorities' tight control on information from the region.
The detention program has swept up people, including relatives of American citizens, on ostensible offenses ranging from accessing foreign websites to contacting overseas relatives. Other aspects of the security crackdown the AP has detailed include all-encompassing digital surveillance, mass deployment of police and severe regulations against religious customs and dress.
On Thursday in Beijing, the Foreign Ministry said Chinese citizens enjoy freedom of religion according to the law and that the American lawmakers should not "threaten to impose sanctions at every turn on other countries."
"I would like to advise the individual U.S. lawmakers to focus on and perform their duties well because they are spending taxpayer money," spokeswoman Hua Chunying told reporters. "They should certainly serve the Americans properly instead of poking their noses in other countries' affairs and pretending to be a judge of human rights."
China denies such internment camps exist but says criminals involved in minor offenses are sent to "vocational education and employment training centers" to help with their rehabilitation and reintegration into society.
"The argument that 'a million Uighurs are detained in re-education centers' is completely untrue," Chinese representative Hu Lianhe said earlier this month in responding to questions raised by the U.N.'s Committee on the Elimination of Racial Discrimination in Geneva.
But reporting on its findings Thursday, the committee echoed concerns expressed by the U.S. lawmakers. China was one of seven countries up for review in the latest session of the group of independent experts linked to the U.N. human rights office.
"The committee has been alarmed by numerous reports of detention of large numbers of ethnic Uighurs and other Muslim minorities held incommunicado and often for long periods, without being charged or tried, under the pretext of countering terrorism and religious extremism," committee member Nicolas Marugan said at a news conference in Geneva.
The committee called on China, among other things, to strengthen its measures to prevent torture and ill-treatment against members of ethnic minorities, such as by improving their access to lawyers, and to allow independent experts to investigate all deaths of ethnic minorities in custody.
China insists tough measures are needed as part of a "People's War on Terror" to purge separatist and religious extremist elements from Xinjiang, a vast region with more than 10 million Muslims. Deadly ethnic riots in its capital in 2009 killed hundreds and sporadic violence occurred in subsequent years. But reports of violence are increasingly rare and the existence of an effective organized resistance to Chinese rule is widely doubted.
China's foreign ministry did not immediately respond to a request for comment on the letter.
Rubio and Smith had raised the possibility of imposing sanctions on Chinese officials under the 2016 Global Magnitsky Act in April, asking the U.S. ambassador to Beijing, Terry Branstad, to visit the region and collect information on Xinjiang officials responsible for the mass detention policy.
The Global Magnitsky Act allows the U.S. government to place travel and financial restrictions on individuals anywhere in the world given credible proof of their role in human rights violations or corruption. For the first time in December, U.S. authorities designated 52 people under the act, including a Myanmar general allegedly involved in the deadly crackdown on Rohingya Muslims and a Chinese police official who oversaw the Beijing detention center that held Cao Shunli, a human rights activist who died in custody.
Acting Deputy Assistant Secretary of State Laura Stone said later in April that the U.S. was deeply concerned about the detentions and could take action under the Magnitsky act.
Along with Chen, other Chinese officials named in the letter include Hu, the Chinese delegate to the U.N. human rights meeting, who is an official with the Communist Party's United Front Work Department; Xinjiang Deputy Party Secretary Shohret Zakir; and the head of Xinjiang's Politics and Law Commission Zhu Hailun.
The letter also mentions two companies that could be sanctioned under a separate executive order, Hikvision and Dahua Technology, both of which make video surveillance technology used extensively throughout Xinjiang track residents and restrict their movements.
The letter was signed by a bipartisan group of senators and congressmen, including Ted Cruz and Sherrod Brown.
___
Associated Press writer Jamey Keaten contributed to this report from Geneva.