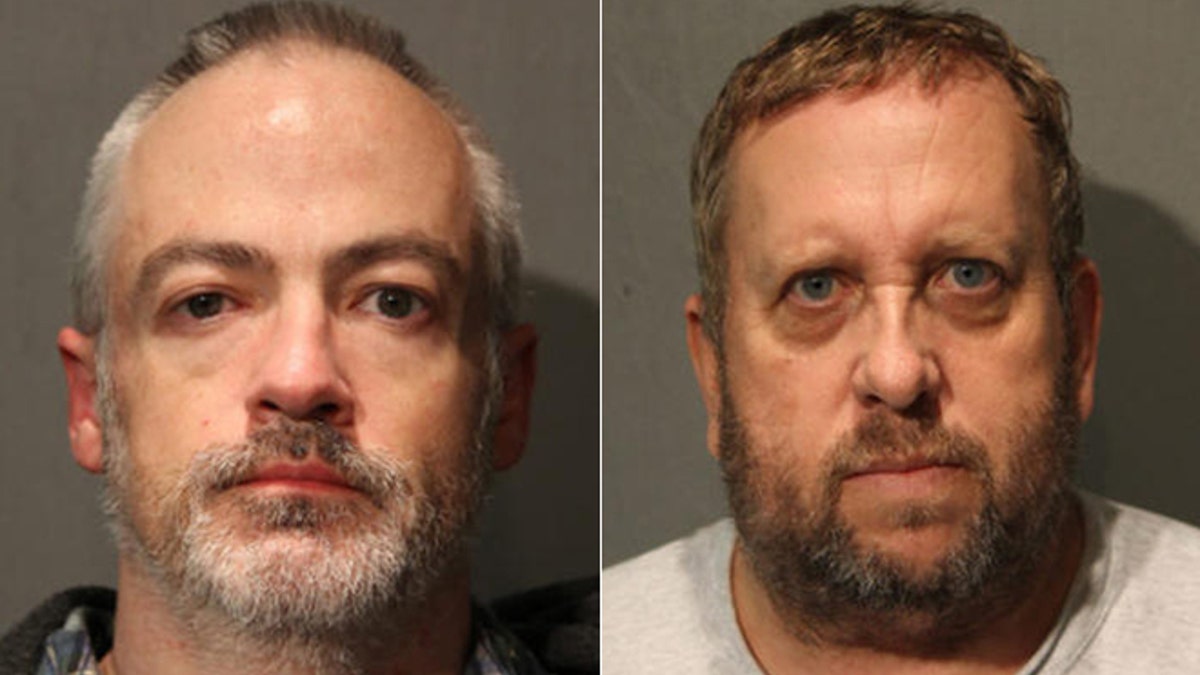 A sexual fantasy plotted in an online chatroom led to the fatal stabbing of a hairstylist in July in Chicago, prosecutors told a Cook County judge Sunday at a bond hearing for a Northwestern University professor and an Oxford University employee accused in the slaying.
According to police and autopsy reports, Trenton James Cornell-Duranleau, 26, a Michigan native, was stabbed some 70 times and with such brutality that he nearly was decapitated. His throat was slit and his pulmonary artery torn. He had been stabbed 47 times in his back, chest, shoulder and abdomen. He was stabbed and cut additional times in his arms, chin, neck, hands and wrists.
Cornell-Duranleau, the 26-year-old boyfriend of since-fired professor Wyndham Lathem, 43, went to sleep in Lathem's high-rise Chicago condo on July 26, at which point Lathem texted Andrew Warren, 56, an Oxford financial official and British citizen, that it was time to kill Cornell-Duranleau, prosecutors said.
Lathem began plunging a 6-inch dry-wall saw knife into his Cornell-Duranleau's chest and neck, prosecutor Natosha Toller said. When the victim awoke, he began screaming and fought back.
Toller said Lathem then yelled at Warren, who was standing in a nearby doorway, and asked him for help.
Warren ran over to cover the victim's mouth, then struck him in the head with a heavy lamp in an attempt to silence him, Toller said. As Lathem continued to stab his boyfriend, Warren left the room and returned with two kitchen knives, she said.
Warren bent over Cornell-Duranleau and joined Lathem in stabbing him, the prosecutor said.
She said the victim's last words were addressed to Lathem: "Wyndham, what are you doing?"
Cornell-Duranleau's body was found lying against a bedroom door of Lathem's 10th-floor apartment, authorities said.
At the bond hearing Sunday, according to The Chicago Tribune, Lathem's attorney Barry Sheppard submitted copies of dozens of letters attesting to his client's character and professional achievements. He said his client "has led a life of outstanding, unblemished citizenship."
Sheppard, as well as Warren's attorney, Assistant Public Defender Courtney Smallwood, asked for bond for the two men — a request the judge denied.
"The heinous facts speak for themselves," said Judge Adam Bourgeois, who deemed both men potentially dangerous and ordered them to remain in custody pending trial on first-degree murder charges.
Prosecutors said Lathem and Warren had connected in an Internet chatroom about their fantasies: their plan included killing someone and then themselves.
Toller said Lathem and Warren had talked in detail beforehand about how they would kill themselves. She said Lathem was supposed to stab Warren to death as Warren was shooting and killing him.
Lathem and Warren surrendered peacefully to California authorities on August 4 after an eight-day manhunt.
The Associated Press contributed to this report.