Cheerleader forced to do splits by coach says she's being cyberbullied for speaking up
A Colorado high school cheerleader who filmed herself and her squadmates being forced into painful splits by a coach has said she has experienced online bullying since the videos were made public.
Ally Wakefield told KDVR that she has been told to kill herself by some people, while others have attempted to discredit the injuries she suffered as a result of the practice.
Still, she told the station she doesn't regret speaking out.
"I know what it's like to not have a voice and it really sucks, and so I just want to be their voice because I have the opportunity to," Wakefield said.
Denver East High School cheerleading coach Ozell Williams was placed on administrative leave, as was the school's principal, an assistant principal, one of Williams' assistants, and a school district lawyer.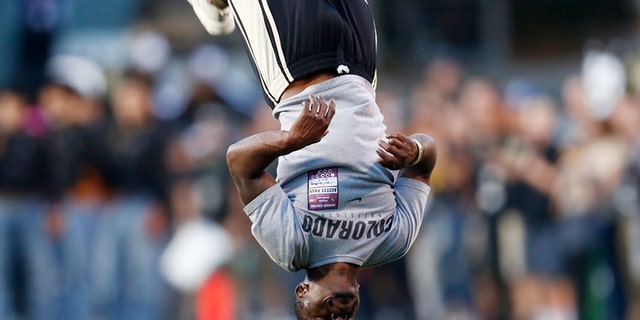 The video shows Wakefield and seven other cheerleaders repeatedly being pushed into splits while their arms are held up by teammates. In one video, a girl repeatedly asks the coach to "please stop."
Wakefield told KDVR that Williams told the team that the practice, sometimes referred to as "breaking," was normal.
"So I just figured, so be it," she added.
Ally's mother, Kirsten Wakefield, told KDVR that doctors believe her daughter tore muscle tissue while doing the splits and might have pulled a hamstring.
"These girls are 13 to 17 and this is a crucial developmental stage for them," Kirsten Wakefield said. "What kind of message we are sending if we tell them it is all right for an adult to abuse you while you're screaming 'no, stop,' and not be able to do anything about it or speak up and not have any recourse?"
On Friday, the Boulder Valley School District revealed that Williams was fired from Boulder High School over concerns about his techniques.
District spokesman Randy Barber said Williams, the founder of a Denver-area tumbling school, worked as a contract employee with cheerleaders at Boulder High School during two stints in 2015 and 2016 to help them with choreography and tumbling. He worked with the cheerleaders once or twice a week in the fall of 2015 and also during a summer camp in 2016. He was dismissed three days into the four-day camp after a coach saw him using a technique similar to that seen in the Denver videos.
Boulder High's principal, James Hill, sent a letter to parents on Thursday asking anyone who had a problem working with Williams to tell administrators or police.
Williams couldn't be located for comment but he told The Denver Post on Thursday that the videos were taken out of context.
"You can definitely say that what was in the video could be seen in a different light," he told the newspaper. "I would love to tell my story, but I can't say anything else at this time."
Williams graduated in the spring from the University of Colorado and often performed tumbling tricks before football games there. In a TEDx talk at the school last spring, he spoke about how a mentor he met while growing up in Chicago helped him develop his tumbling talent and how his skills provided an escape from a difficult childhood.
The Associated Press contributed to this report.