Charlottesville suspect's mom told him to protest 'peacefully'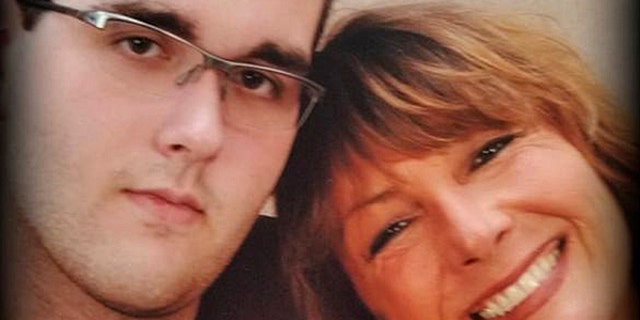 The mother of the man who police say killed a woman when he plowed a car into a group of protesters during a white nationalist rally in Charlottesville, Va., Saturday said she urged her son that if he was going to the rally to "be careful."
James Alex Fields Jr., 20, of Maumee, Ohio, texted his mother Friday to say he had dropped his cat off at her house so he could go to an "alt-right" rally in Virginia.
"I told him to be careful," Samantha Bloom, a paraplegic, told the Toledo Blade. "[And] if they're going to rally to make sure he's doing it peacefully."
In an interview with The Associated Press on Saturday night, Bloom said she didn't know it was a white supremacist rally.
"I thought it had something to do with Trump. Trump's not a white supremacist," said Bloom, who became visibly upset as she learned of the injuries and deaths at the rally.
"He had an African-American friend so ...," she said before her voice trailed off. She added that she'd be surprised if her son's views were that far right.
The Blade reported Sunday that FBI agents had interviewed Bloom about her son.
"They contacted me to let me know they were in the area, that they were going to talk to the mother, which they already have," Lucas County Sheriff John Tharp told the paper, referring to the FBI. "What the conversation was, I don't know."
Bloom returned from dinner Saturday unaware of her son's arrest, the paper reported.
He told her about the rally last week, she told the paper.
"I don't talk to him about political views," she said. "So I don't understand what the rally was about."
Bloom told the paper her son moved out of her home "five or six months ago." He had an apartment, she said.
They moved to northwest Ohio from Florence, Ky., about a year ago for her job, the Blade reported.
Fields brandished a shield with a white supremacist emblem just hours before the deadly rampage Saturday, the New York Daily News reported.
The paper reported photographing Fields on the front lines of the rally about 10:30 a.m. flanked by other white men in polo shirts and tan slacks clutching the racially charged black-and-white insignia of the Vanguard America hate group.
The Anti-Defamation League depicted Vanguard America as a white identity group whose members have "increasingly demonstrated a neo-Nazi ideology," the paper reported.
Vanguard America denied on Sunday any association with the suspect.
In a Twitter post, the group said it had handed out the shields "to anyone in attendance who wanted them," and denied Fields was a member. "All our members are safe an (sic) accounted for, with no arrests or charges."
Military records show that Fields entered the Army on Aug. 18, 2015, around the time his mother wrote on Facebook that he had left for boot camp, The New York Times reported. Less than four months later, on Dec. 11, his period of active duty concluded. It was not immediately clear why he left the military.
The paper also quoted Caitlin Robinson, who attended Ockerman Middle School in Florence, Ky., with Fields, as saying that his interest in far-right ideologies dated back years.
"On many occasions there were times he would scream obscenities, whether it be about Hitler or racial slurs," Robinson told the paper in an email Sunday.
Her email also said Fields "mostly kept to himself" and "didn't start fights or try to fight," the paper reported. She also described him as "exceptionally odd and an outcast to be sure."
"He wasn't afraid to make you feel unsafe," she said, according to The Times.
Fields' father was killed by a drunken driver a few months before his birth, an uncle told The Washington Post. His father left him money that the uncle kept in a trust until Fields reached adulthood.
"When he turned 18, he demanded his money, and that was the last I had any contact with him," the uncle told the paper.
Fields has been charged with murder in the second degree, three counts of malicious wounding, and with leaving the scene. A bond hearing is scheduled for Monday.
The Associated Press contributed to this report.