California wine country wildfires kill at least 10, force massive evacuations
Several raging wind-whipped fires killed at least 10 people and forced massive evacuations Monday in the area around California's world-famous wine country, as Gov. Jerry Brown declared a state of emergency and officials estimated at least 1,500 homes and commercial buildings were destroyed.
California Department of Forestry and Fire Protection Director Ken Pimlott said an estimated 20,000 people have been evacuated as 14 large fires burn. The fires are burning throughout an eight-county swath of Northern California, including Napa, Sonoma and Yuba counties.
At least ten people have died as a result of the burning wildfires, officials said Monday night. The Sonoma County Sheriff's Office tweeted that seven deaths were reported in Sonoma County.
The California Fire Public Information Officer tweeted that two people are confirmed dead in Napa County, in addition to one death in Mendocino County.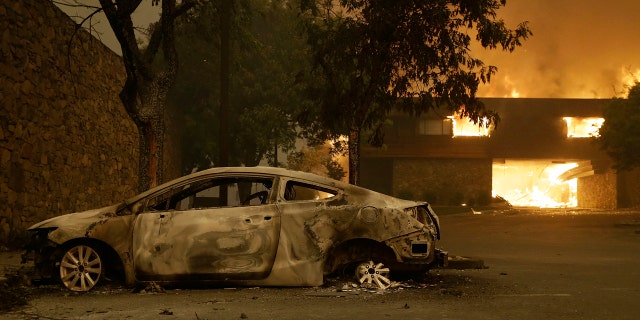 Other fatalities are expected, according to Pimlott, but damaged areas are difficult to assess as the fires continue to burn.
More than 100 people were treated for burns and smoke inhalation from the raging fires, the San Francisco Chronical reported.
"Right now with these conditions we can't get ahead of this fire and do anything about the forward progress," Napa County Fire Chief BarryBiermann said at a news conference.
Mandatory evacuations were ordered for multiple locations in counties north of San Francisco, KTVU reported.
"It was an inferno like you've never seen before"
A spokesperson for Pacific Gas and Electric told the Associated Press that 114,000 customers were without power.
The Sonoma County Sheriff's Office said there were multiple fires reported around the county, including a "very large fire" that jumped a freeway and spread into the east side of Santa Rosa.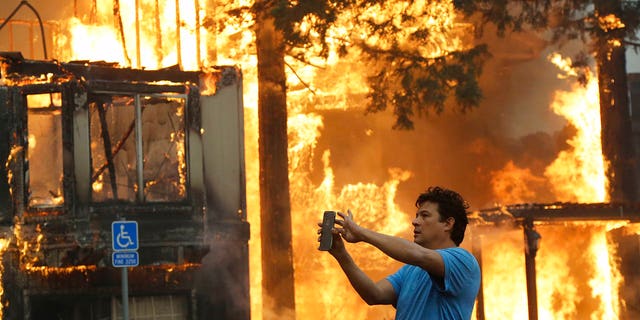 Multiple fires broke out Sunday night as strong winds buffeted the area. Emergency lines were inundated with callers reporting smoke in the area, prompting officials to ask that the public "only use 911 if they see actual unattended flames, or are having another emergency."
Officials in Sonoma County said all Santa Rosa City schools will be closed Monday due to the fires.
The Tubbs Fire between Santa Rosa and Calistoga alone grew from 200 acres to 20,000 acres by Monday morning, CalFire Battalion Chief Jonathan Cox told KTVU.
"This fire is explosive," he said, adding that hundreds, if not thousands of structures were impacted.
Cox said he heard of some people injured while trying to evacuate, but could not be specific.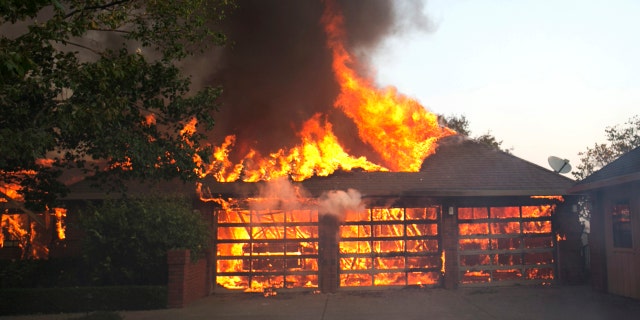 "We're still saving lives at the moment," he said. "This fire has gotten explosive due to the wind."
In Santa Rosa, Ron Dodds, who told KTVU he was helping his uncle evacuate said people were running red lights, and "there is chaos ensuing."
"It's a scary time," Dodds said. "It looks like Armageddon."
Patients from Kaiser Permanente and Sutter Health hospitals on were evacuated early Monday from Santa Rosa and taken to other nearby hospitals or make-shift hospitals, according to KTVU.
In neighboring Napa County, officials were battling a 200 acre fire south of Lake Berryessa, located about 65 miles west of Sacramento.
Fire officials said the Atlas Fire broke out at 9:50 p.m. local time and was zero percent contained.
Cal Fire Deputy Chief Scott McLean called the conditions "very volatile."
"People need to be careful," McLean said.
Belia Ramos, chairwoman of the Napa County Board of Supervisors, said officials did not yet have a count on how many properties were affected, either by the fire directly or by evacuations.
"We're focusing on making evacuations and trying to keep people safe. We are not prepared to start counting. Certainly with day just breaking now, we are starting to see the structures that are affected," she said shortly after sunrise.
"The gusts are very, very — they're tremendous and it's what makes this fire unpredictable. It's something that we're having to be very cautious about," she said.
Downed trees were blocking parts of one rural road and fires were burning on both sides of Highway 12 as gusts reached up to 60 mph.
"The winds picked up to 40-plus miles per hour probably, very windy, and it changed direction and it headed straight down the valley floor," Napa resident and Ranch Markets owner Arik Housley told "FOX & Friends."
The fires were also nearly some wineries in the famed Napa Valley. It was not immediately clear if the Francis Ford Coppola Winery was affected by the ferocious blaze, but some  wineries on Silverado Trail had some damage.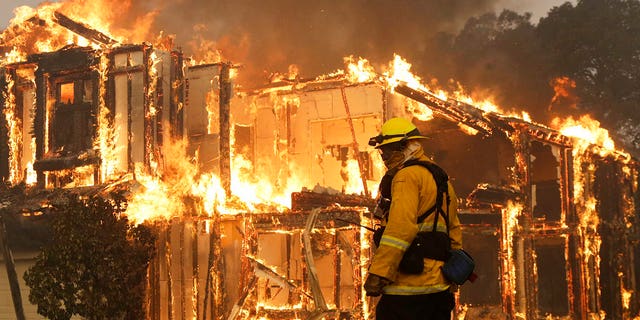 Windsor Fire Chief Jack Piccinini told the Associated Press that nearly every one of Sonoma County's fire resources is being used, but it is not enough.
"Everyone in Sonoma County is spread out fighting these fires, but they don't have enough resources to handle something like this. The only thing we can do is hope the wind will come down," he said.
Community centers, the Sonoma County Fairgrounds and other local centers have been opened for evacuees.
"It was an inferno like you've never seen before," said Marian Williams, who caravanned with neighbors through flames before dawn as one of the wildfires reached the vineyards and ridges at her small Sonoma County town of Kenwood.
Williams told the AP she could feel the heat of her fire through the car as she fled.
"Trees were on fire like torches," she said.
Fires also burned in Yuba, Butte and Nevada counties — all north of the state capital. Cal Fire tweeted that as many as 8,000 homes were threatened in Nevada County, which lies on the western slope of the Sierra Nevada.
The National Weather Service issued a warning of dangerous conditions that could lead to rapidly spreading wildfires, which goes until early Tuesday. The fires created thick smoke in San Francisco, 60 miles south of the Sonoma County fire.
The Associated Press contributed to this report.