California teacher accidentally fires gun in class, police say; students reportedly injured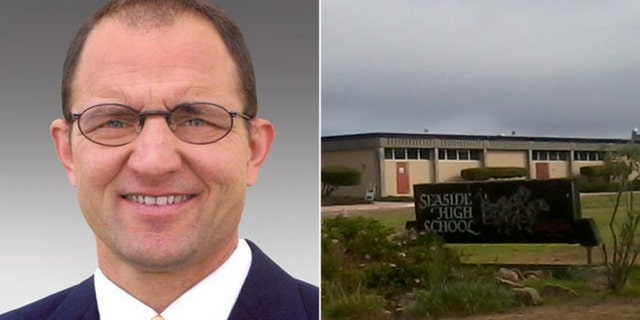 A teacher at a California high school who accidentally fired his gun during a class, reportedly injuring three students, was not authorized to have a gun at school, officials said.
Dennis Alexander, a teacher at Seaside High School and reserve officer with the Sand City Police Department, was teaching an "Administration of Justice" class Tuesday when he reportedly pointed his firearm at the ceiling during a lesson and accidentally shot it.
Police told The Associated Press that Alexander had pointed his gun at the ceiling to make sure it was not loaded when the weapon discharged.
OPINION: OUR POLICE NEED BETTER TRAINING. FLORIDA SCHOOL SHOOTING FAILURES MAKE THIS MORE IMPERATIVE
The Monterey Peninsula Unified School District said that Alexander was not authorized to have a firearm at the school because he's not a school resource officer. Authorities were investigating why Alexander had the gun and if officials were aware he intended to bring it to school.
The school district told Fox News in a statement that an immediate investigation "determined that there was no immediate threat to students or staff," however one student's mother told the AP that her son suffered moderate injuries.
Crystal Gonzales said her 17-year-old son, Fermin, was injured when bullet fragments became lodged in his neck after ricocheting off the ceiling.
"I'm still really upset no one called a nurse or a paramedic to come check on the students," Gonzales said, adding that parents weren't told of the incident and students "just sat there until the bell rang."
The mother said she didn't hear about what happened until her son called her hours later. She said the principal called her cellphone to apologize.
SHERIFF 'DEVASTATED' AFTER STUDENT FINDS HIS FORGOTTEN GUN IN MIDDLE SCHOOL LOCKER ROOM
Alexander was placed on administrative leave from both his teaching job and the police department, where KSBW reported he's been a reserve police officer for 11 years.
The incident came the same day as a school resource officer at a Virginia middle school also accidentally fired his gun while children were attending classes.
Additionally, a county sheriff in Michigan apologized, also on Tuesday, for accidentally leaving his gun in the locker room bathroom of a middle school over the weekend.
RESOURCE OFFICER ACCIDENTALLY FIRES GUN AT VIRGINIA MIDDLE SCHOOL, OFFICIALS SAY
The accidental firings come amid a nationwide debate on the subject of arming school teachers.
Deputy Scot Peterson, of the Broward County Sheriff's Office, was stationed at Marjory Stoneman Douglas High School in Parkland, Florida, as the school's resource officer on Feb. 14 when a gunman entered a building on campus and killed 17 people.
It was later revealed Peterson never entered the building, despite hearing gunfire.
Fox News' Paulina Dedaj and The Associated Press contributed to this report.