California oil slick expected to vanish on its own, Coast Guard says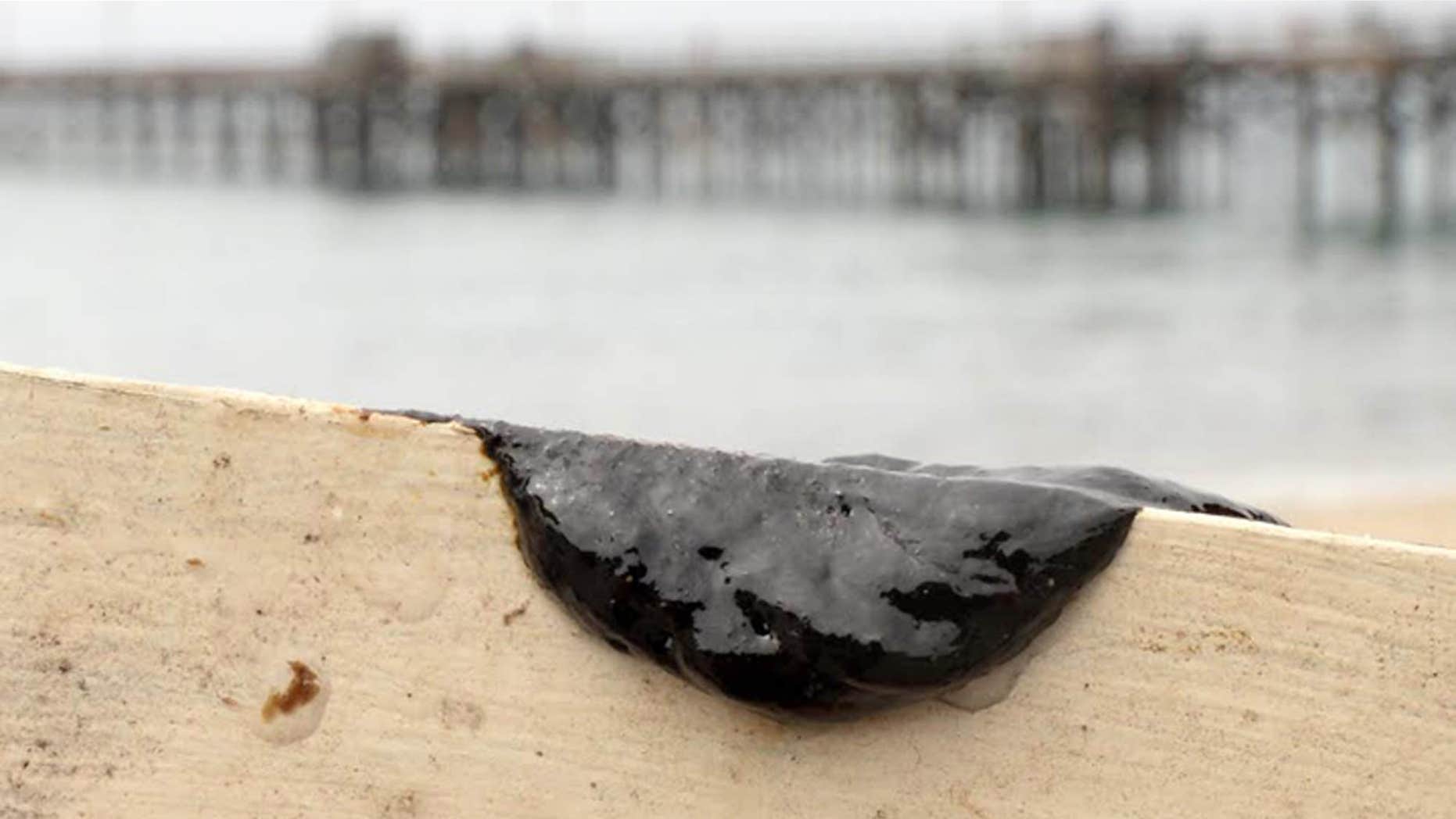 GOLETA, Calif. – A 2-mile-long oil slick mysteriously materialized off the Southern California coast on Wednesday, but unlike a disastrous spill in the same area two months ago it didn't send any damaging crude ashore and was expected to dissipate on its own.
The Coast Guard was still attempting to determine the source of the slick, which was first observed just off the beach in the college town of Goleta on Wednesday morning.
"I'm not sure when we'll find out," said Petty Officer 1st Class Sondra-Kay Kneen. She added, however, that there were no reports of it coming ashore as it drifted near Santa Barbara. It isn't thick enough to be scooped up, she said, and should dissipate on its own in the days ahead.
The Santa Barbara County Department of Public Health said the slick provided no threat to public health and safety, although officials advised people to avoid contact with the oil.
No beaches were closed and fishing was allowed to continue, including from the Goleta pier.
The oil-rich Santa Barbara Channel, where the slick materialized, is the site of frequent natural seepage.
The area was flooded with 100,000 gallons of crude on May 19, however, when an onshore oil pipeline ruptured. Miles of fishing area and beaches were closed for weeks.
Aerial photos showed Wednesday's slick drifting near the Santa Barbara Channel's Platform Holly oil facility, but officials with Venoco Inc., which operates the platform, said there have been no incidents at its facilities.
The platform is currently shut down and there is no oil in its pipeline, said Zach Shulman, the company's director for corporate finance and investor relations.
"Absent another source, the sheen is most likely due to natural seepage, which can vary from day-to-day," Shulman said in an email.
Santa Barbara County fire Capt. Dave Zaniboni said the slick was observed about 10 a.m. when firefighters responded to reports of the smell of gas off the Goleta pier in the town near the University of California, Santa Barbara.
At about the same time, he said, two kayakers came ashore with oil on their boats and legs. They were otherwise unharmed.
One of the kayakers, Bob Seiler, told KABC-TV he and a friend were fishing when they suddenly found themselves surrounded by oil.
"We were heading to the end of the kelp bed that's out there and the further we got out there the thicker this film was," he said.
The massive May 19 spill occurred about 12 miles away after an onshore pipeline operated by Texas-based Plains All American ruptured at Refugio State Beach, flooding the ocean and sand with crude. About 21,000 gallons flowed into the ocean.
Popular campgrounds were closed, nearby commercial fishing was prohibited and nearly 300 marine mammals and birds were killed.
Earlier this month cleanup costs were pegged at $92 million.
Refugio, the hardest hit of the beaches, only reopened to the public two weeks ago.