California federal court rules high school football player can't be ordered to stand for national anthem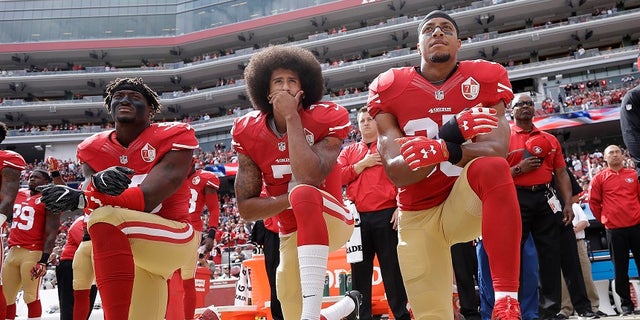 A California federal court has ruled that a high school football player cannot be ordered to stand for the national anthem before games.
The decision, made by the U.S. District Court for the Southern District of California on Dec. 21, struck down statutes enforced by the San Pasqual Valley Unified School District, the Los Angeles Times reported Saturday.
The district prohibited students from "kneeling, sitting or similar forms of political protest" at sporting events and "required students and coaches to "stand and remove hats/helmets during the playing or singing of the national anthem," according to court documents.
INDIANA LAWMAKER WANTS INDIANAPOLIS COLTS TO REFUND UPSET FANS IF PLAYERS KNEEL DURING ANTHEM
The Los Angeles Times reported the school district implemented the rules following a game between San Pasqual Valley High School and Mayer High School in Spring Valley, Ariz. The athletes from the majority-white Arizona school hurled racial slurs at San Pasqual Valley High School students after a player, known only as "V.A." kneeled during the anthem. V.A. said he kneeled to "protest racial injustice" and imitated NFL players who have also sat or kneeled during the Star Spangled Banner.
The San Pasqual Valley school is primarily Native American and Latino, Ira Gottlieb, an attorney who represented V.A. said.
Following the incident, the district's Superintendent, Rauna Fox, decided to implement the new rules.
However, the court found the school district's rules violated V.A's "First Amendment right to political expression."
NEW ORLEANS SAINTS FAN VOWS TEAM WILL 'PAY' IN LAWSUIT OVER NATIONAL ANTHEM PROTESTS
"Schools have the authority to curb speech only when the expressions threaten to disrupt a school's education mission," the ruling stated. "
"We are pleased with this outcome," Katie Traverso, an attorney who represented V.A. in court, said. "Students like our client who conscientiously carry their values and ideals with them, cannot be silenced or directed on what to say or not say by their school in this manner."
It was not immediately clear if the district would appeal the decision. V.A.'s lawyers said they would be "seeking a permanent injunction."