Bus bound for casino crashes on I-95 in Connecticut, dozens reported hurt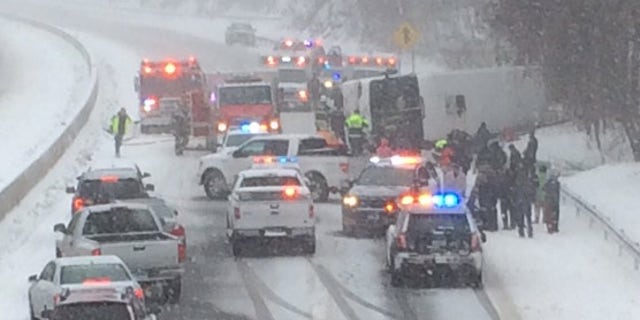 At least 30 people were hurt, some of them seriously, after a bus headed to a casino rolled over on Interstate 95 in Connecticut during a blizzard Monday afternoon.
Ambulences were on the scene in Madison where the state Department of Transportation said the accident occurred around 12:30 p.m. The bus, owned by Dahlia Inc., and operated by VMC East Coast, left from New York City on its way to the Mohegan Sun, a casino spokesman said.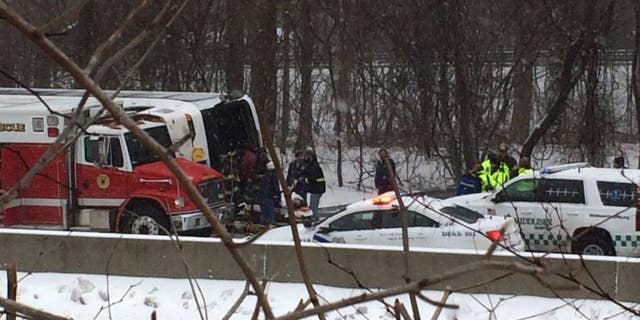 Dr. Andy Ulrich with Yale-New Haven hospital told FOX61 six incoming patients were in critical condition. A FOX61 reporter saw at least four people being removed from the bus on stretchers.
Mark D'Antonio, a Yale hospital spokesman, said they received eight patients, far fewer than the 30 they had originally been told to expect. One person suffered several broken bones and the others were less seriously injured with cuts and bruises, he said.
A Middlesex Hospital spokesperson said the Shoreline Medical Center received 16 patients.
As many as 70 people were on the bus, trooper Kelly Grant said. Crews took the passengers who weren't hurt to a nearby gym.
In a statement, VMC East Coast said it was saddened "that this has happened today" and thanked firefighters, paramedics and police.
The crash unfolded 13 years to the day after a Dahlia bus bound for Atlantic City crashed on New Jersey's Garden State Parkway. The 2003 crash killed two people and injured dozens more.
TV images from Monday's crash showed the bus on its side off the right shoulder of the highway. The northbound side of I-95 was closed between exits 61 and 62, according to WIAT.
"Our thoughts are with those who are injured, and we extend our gratitude to the first responders who are working to protect the safety of all those involved," Gov. Dannel Malloy said in a statement. "We urge all those who must travel to use added caution, allow extra time to travel, and reduce speeds as conditions warrant."

The accident occurred during a snowstorm that was expected to drop up to a foot of snow on parts of the state, but it was not immediately clear if the rough weather triggered the crash.
The Associated Press contributed to this report.