Broward Sheriff Scott Israel facing calls for his ouster after Florida school shooting
Florida Gov. Rick Scott is facing a growing number of calls to remove Broward County Sheriff Scott Israel from his position over the department's response to the high school shooting that killed 17 people.
Florida House Speaker Richard Corcoran, R-Pasco County, sent a letter to Scott on Sunday asking the governor to suspend Israel. A day earlier, State Rep. Bill Hager, R-Boca Raton, urged Scott to relieve Israel from his duties for "neglect of duty and incompetence," the Palm Beach Post reported.
In addition, a survivor of the shooting told Fox News on Sunday that the sheriff had to go.
"He failed to act on so many different levels and him himself, he is responsible for this massive failure. It could have been easily stopped both by the FBI and the sheriff's department had they acted," Kyle Kashuv told "America's News HQ."
Scott does have the power to remove Israel due to the state's Statute 112.52, the South Florida Sun-Sentinel reported. He said the Florida Department of Law Enforcement would launch an investigation, adding, "There must be an independent investigation and that is why I asked the FDLE Commissioner to immediately start this process."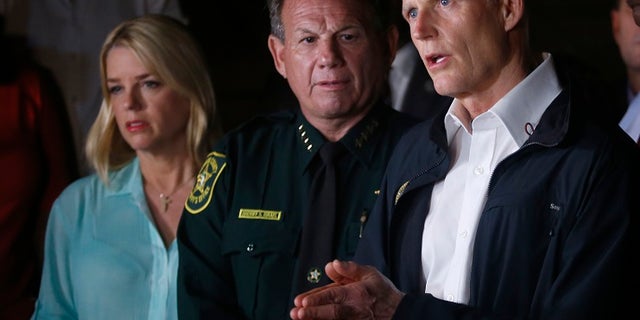 Hager cited reports from the media that several Broward sheriff's deputies waited outside rather than rush in as the alleged gunman, Nikolas Cruz, gunned down students. The Valentine's Day shooting unfolded at Marjory Stoneman Douglas High School in Parkland. The allegations emerged a day after veteran Broward Deputy Scot Peterson resigned when reports emerged that he failed to enter the school and confront the gunman. Peterson had been assigned to guard the school.
Hager also cited reports that there were "23 calls to the Broward Sheriff's Office relating to Nikolas Cruz and his home, as well a 39 visits by Broward Sheriff Deputies."
"The Sheriff was fully aware of the threat this individual presented to his community and chose to ignore it," Hager wrote.
Israel said he office would "fully cooperate" with the FDLE investigation, "as we believe in full transparency and accountability."
The sheriff also responded to Hager, calling his letter "reckless" and "riddled with factual errors, unsupported gossip, and falsehoods."
SEVERAL BROWARD DEPUTIES WAITED OUTSIDE DURING FLORIDA SCHOOL SHOOTING, REPORT SAYS
Israel disputed Hager's claim that three deputies were on the school's campus during the shooting. The sheriff claimed there was "only one law enforcement officer [Peterson]" on the campus during the attack.
He also disputed the calls made to the office regarding Cruz and his family.
"BSO [Broward Sheriff's Office] had a total of 23 calls for service involving Nikolas Cruz or his family; and 18 of those involved Nikolas directly [the others involved his brother]. Of the 18, nearly all but two involved routine calls from the mother relating to parenting issues," Israel wrote.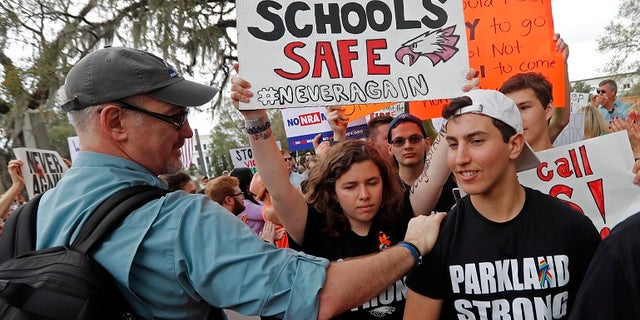 The sheriff called on Hager to "publicly apologize for helping to spread this false gossip and misinformation."
NRA DEFENDS ITSELF AFTER CORPORATIONS PULL AWAY
At a news conference Thursday, Israel said Peterson should have "went in. Addressed the killer. Killed the killer."
Two additional Broward deputies are also under investigation over whether they mishandled warnings about Cruz in the months leading up to the shooting. The FBI has admitted it failed to investigate similar claims, and the Florida child welfare agency looked into concerns about Cruz, but concluded he wasn't a risk to himself or others.
Cruz was arrested and charged with 17 counts of premeditated murder.
Fox News' Robert Gearty and Leland Vittert contributed to this report.