Bride moves wedding to hospital so pregnant mom can attend ceremony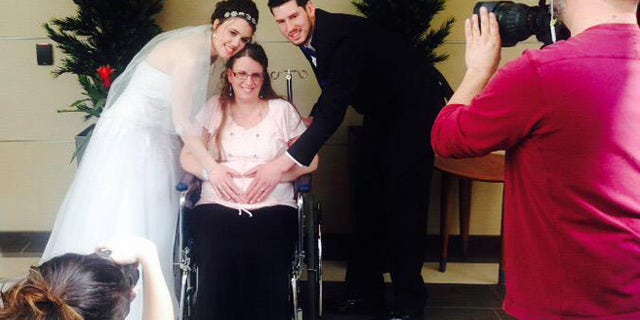 A bride moved her wedding to a local hospital so her pregnant mother could be present for the ceremony, KMSP reported.
The bride's mother, Amy Hamilton, 42, told the station that she "was in the basement ironing one of my son's shirts for the wedding when my water broke."
After hearing the news, Hamilton's daughter, Natalie, and her groom, Michael, decided to move the wedding to the Abbott Northwestern Hospital in Minneapolis where Amy is staying as she gets closer to delivering her 11th child.
"My dad and my sister just had the idea and so we thought, let's do it because I wasn't going to do it without her," Natalie Lee said.
Hamilton told KMSP that her nurse fixed her hair for the wedding.
"I just feel so loved, so loved right now that this worked out for me," Hamilton said.
The chaplin, Rev. Phil Rose, called the ceremony "inspiring."
"I really appreciate the way they're gathering around this couple and around mom, Amy, to support one another," he said.
Click for more from MyFoxTwinCities.com.