Boston Marathon's first official female runner relives bombings: 'Running makes you fearless'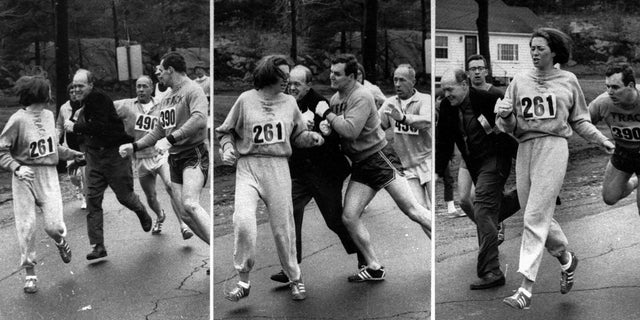 At 71 years young, Kathrine Switzer is still running.
In 1967, nearly 51 years ago, Switzer became the first woman ever to run the Boston Marathon with an official bib number.
Switzer made history when she registered under the name "K.V. Switzer" and completed the race, even after the then-20-year-old Syracuse University student was infamously attacked by a race official who attempted to tear off her number -- 261 -- and throw the runner out. Her boyfriend at the time shoved the official out of the way so Switzer could keep going.
At that point, the race was considered to be just for men.
"Boston isn't testimony to my greatness, it's a testimony to how few women ran at that time," Switzer recently told Fox News.
"The event chose me," she said of the marathon. "Boston has always been Mecca for [serious] runners."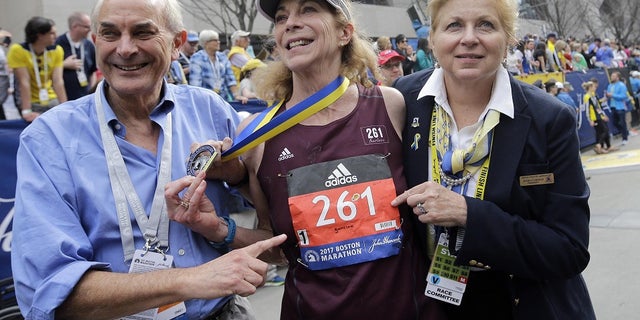 Since then, Switzer hasn't stopped -- she will officially run her 42nd marathon on April 22 in London. And last year, on the 50th anniversary of her 1967 race, Switzer re-ran Boston.
"Last year was so incredible, I can't duplicate it," she said, though she added that she might re-run the race when she's 80.
Unlike last year, however, this year's marathon -- which will take place Monday, April 16 -- falls on a more sobering occasion: the fifth anniversary of the bombings, which killed three people and injured hundreds of others.
RELATED: WHEN IS THE BOSTON MARATHON? A LOOK AT THIS YEAR'S RACE
Switzer, who was broadcasting the running event that day, had just gotten back to her room at a nearby hotel to change and prepare for interviews when she heard the first bomb go off. She initially thought it was a gas explosion.
Then the second bomb detonated.
Switzer ran to the window, which overlooked an area where runners would meet family and friends after completing the race. She recalled the crowd below going from "laughing and talking selfies" to "perplexed."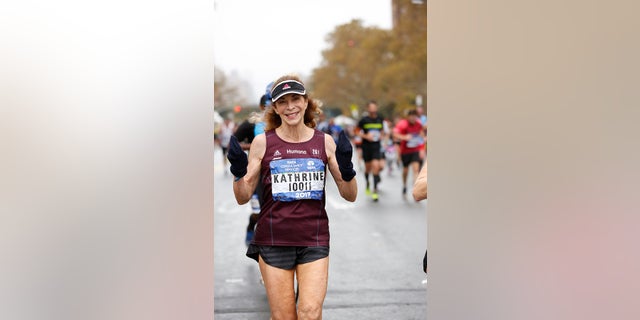 "I wanted to run out and help, even though it was irrational," she said. Just as she grabbed the door to leave the room, her husband, Roger Robinson, informed her the hotel was on lock-down.
The rest of the day was a whirlwind; the runner gave at least 15 different interviews with reporters who were anxious to provide as much information as they could to a dizzied nation.
"All I could do was relay what I was seeing. I didn't see any of the horrors, but what I saw was horrible enough," said Switzer, adding that she "quelled other people's fears" the best she could.
"Aren't you afraid?" was the recurring question that day, she said. Many believed the tragedy on April 15, 2013, would change the running community forever.
But Switzer had learned an essential lesson throughout her decades of running: even in the face of adversity, "running makes you stronger; it makes you fearless."
"Nothing makes up for the sadness and death. But as horrible as it was, running itself is a force for good," she said.
"Sometimes tragedy does that; it makes people rise to the occasion."
Switzer noted how the city of Boston has come together since the tragedy. Each year since the bombings, it "serves as an example of what peace can really look like. We are Boston strong."
"Talk about heartened courage," she said of the victims who lost limbs that day, especially those who have not let the incident stop them from achieving their running goals.
"Sometimes tragedy does that; it makes people rise to the occasion," she added.
Ahead of Monday's race, Switzer gave a bit of advice to the thousands of entrants: "If you start too fast, you're going to finish very slowly."
She also reminded runners that the first half of the race is mostly downhill.
"Boston is amazing; it is our oldest consecutively run marathon in the world. You're apart of it now, so enjoy the experience," Switzer added.