Border patrol detains 59 illegal immigrants found inside tractor-trailer in Texas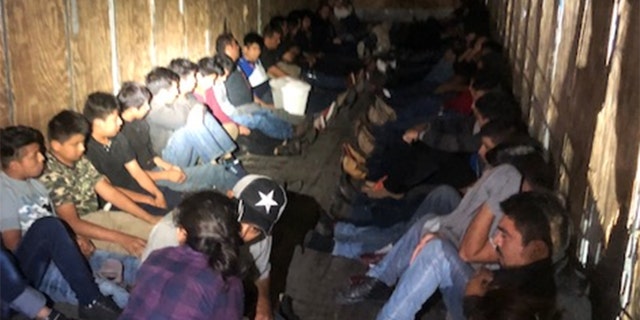 Border patrol agents at a checkpoint in Laredo, Texas on Friday discovered 59 illegal immigrants packed in the back of a tractor-trailer trying to enter the United States, officials announced Tuesday.
The immigrants were from Mexico, Guatemala, Brazil, Honduras and Peru.
The driver and a passenger, both U.S. citizens, were arrested, however, charges against them were not formally announced.
"These criminal organizations view these individuals as mere commodities without regard for their safety. The blatant disregard for human life will not be tolerated," Laredo Sector Assistant Chief Patrol Agent Gabriel Acosta said in a statement.
Laredo is one of the largest trade and transportation ports along the U.S.-Mexico border where hundreds, if not thousands, of tractor-trailers move goods between the two countries.
Truck drivers, usually U.S. citizens, are paid a fee per person they smuggle across the border in their trailers.
Last July, 10 people died as they were smuggled through Texas. Thirty-nine immigrants were found packed into a semitrailer in the parking lot of a San Antonio Walmart.
The driver, 61-year-old James Matthew Bradley Jr., was sentenced to life in prison last Friday after pleading guilty to a county of transporting immigrants resulting in death, and a conspiracy count.