Bodies of missing Arizona couple are believed found
MARICOPA, Ariz. – A missing Phoenix-area couple were killed and buried in the yard of a man who told investigators he was high on methamphetamine at the time, authorities said Thursday.
Pinal County Sheriff Paul Babeu said Jose Valenzuela, 38, acknowledged killing Michael Careccia, 44, and his wife, Tina, 42.
"Essentially he confessed," Babeu said at a news conference.
Valenzuela has been charged with two counts of first-degree murder. He is being held on a $2 million cash bond.
According to Babeu, Valenzuela was found with a .22 caliber revolver that authorities believe is the murder weapon.
Valenzuela made statements to an investigator that led to a search for the victims on his property. Babeu said Valenzuela borrowed a backhoe from an unsuspecting acquaintance to hide the bodies on his property in Maricopa.
"Instead what he did was he built, not a makeshift grave, but an actual 6-foot grave," Babeu said. "He put these victims in that grave and buried them."
Two bodies were recovered from Valenzuela's property and identified as the couple, authorities said. The grave was not noticeable initially because the suspect had piled other debris and materials on top of it, Babeu added.
The couple was reported missing June 22 by Michael Careccia's son after Tina Careccia didn't show up to work. Authorities went door to door, launched air and ground searches and used dogs to try to track their scent.
Sheriff's officials served a search warrant Wednesday at Valenzuela's residence, and deputies were seen digging on the property before the bodies were found.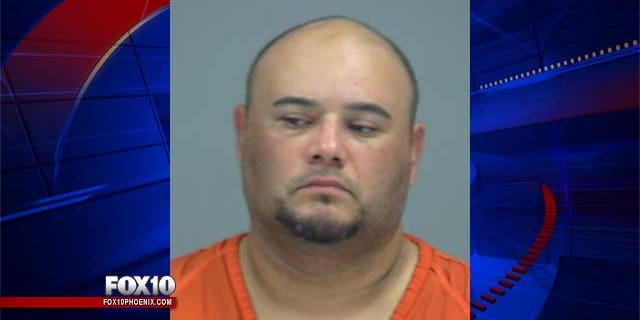 Valenzuela told investigators he and the couple have been acquainted for the past two years and used methamphetamine together. Babeu cautioned that toxicology tests were needed to confirm the allegations.
Authorities said Valenzuela brought meth to the couple's home the day before they went missing, Father's Day. Then they went to Valenzuela's home later that day and Valenzuela brandished a weapon during a fight.
Babeu said authorities believe Valenzuela was high on meth at the time.
Sheriff's spokesman Mark Clark said he doesn't know whether Valenzuela has an attorney.
Marla Francisco, who shares a child with Valenzuela, said she no longer lives at the property searched by authorities and was shocked by the arrest.
"Who wouldn't be?" Francisco said before hanging up the phone.
The couple's abandoned car was previously found covered in dirt about a half-mile from their home in Maricopa, about 35 miles south of Phoenix.
There has been no activity associated with their phones, bank accounts, credit cards or social media accounts since they went missing, investigators said.
Tina Careccia is an accountant at a Chandler construction company and her husband is a pilot, authorities say.