Bloody sheets, boxes of cold medicine discovered at home of aspiring preacher who claims he killed wife
North Carolina investigators discovered empty boxes of cold medicine and what seemed to be bloodied sheets at the home of an aspiring preacher who admitted to authorities last month that he killed his wife in a cough syrup induced stupor.
Matthew James Phelps, 29, was arrested on Sept. 1 after he called 911 and told the operator: "I think I killed my … there's blood all over me, and there's a bloody knife on the bed. I think I did it."
Phelps, who worked at a landscaping company and studied missions and evangelism at Clear Creek Baptist Bible College in Pineville, Ky., told 911 operators that he believed he might have stabbed his wife Lauren Hugelmaier Phelps, 29, because he consumed too much cough syrup.
NORTH CAROLINA MAN CHARGED WITH MURDER AFTER TELLING 911 HE WOKE UP FROM DREAM AND FOUND WIFE DEAD
"I took more medicine that I should have. I took Coricidin Cough and Cold because I know it can make you feel good and sometimes I can't sleep at night," Phelps told a 911 operator.
"I can't believe I did this," Phelps was heard sobbing. "Oh God. She didn't deserve this. Why?"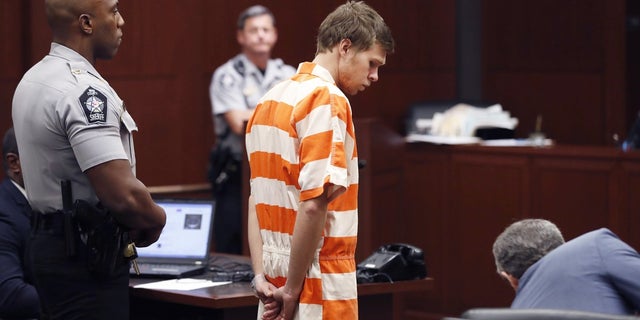 When officers arrived to Phelps' home in North Raleigh, they discovered Lauren Phelps with multiple stab wounds. She later died from her wounds.
Investigators told The News & Observer that the aspiring pastor kept repeating that he "harmed" his wife when they arrested him and took him into custody.
MAN WHO CLAIMS HE KILLED WIFE IN COUGH MEDICINE-INDUCED STUPOR WAS ASPIRING PREACHER
Police were granted a search warrant for Phelps' home where they took a "white bedspread, a white sheet, a gray white comforter and several pillowcases that were all marred with an unknown red substance," the search warrant, made public by the Wake County Clerk of Courts Office, stated.
Investigators also took a Coricidin Cold & Cough medicine box that was empty, four computers, receipts, a mortgage statement, a knife set, credit cards and an iPhone that reportedly belonged to the deceased wife.
Phelps, who does not have a criminal record, has been charged with first-degree murder in his wife's death. He is currently held at Wake County Jail without benefit of bail.
The Associated Press contributed to this report.