Blizzard stymies travel across Midwest, as hundreds of flights canceled and 'thundersnow' reported
The first major winter storm of the season targeting the Midwest at the end of the busy Thanksgiving weekend has created travel headaches that stretched into Monday, with hundreds of flights grounded and major highways closed.
The National Weather Service said the storm has dropped over a foot of snow from parts of the Mississippi Valley into the greater Chicago area, where heavy snow was beginning to taper off as daylight broke.
The storm was strong enough to cause "thundersnow" in some areas, which prompted a warning from the NWS' Chicago office.
"...just because it is snowing, does not diminish the dangers from lightning," the agency said. "Remember, if you're close enough to hear thunder or see lightning, you should seek shelter indoors! Shoveling or snow blowing can wait!"
The storm was also bringing wind gusts up to 50 mph throughout northern Illinois, leading to whiteout conditions on area highways. The strong winds also caused power outages for tens of thousands of people across the Chicago area, FOX32 reported.
For travelers flying out of Chicago's two main airports, the winter storm put their plans on hold. As of Monday morning, over 800 flights were canceled at O'Hare International Airport, while Midway International Airport reported about 70 flights had been canceled, according to the Chicago Department of Aviation.
"Make sure that you give yourself plenty of time and if all possible, do not travel if you don't have to," said Alicia Tate-Nadeau, the executive director of the Chicago's Office of Emergency Management and Communications.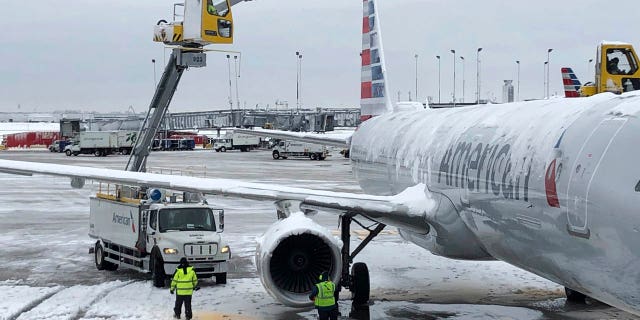 One Chicago native trying to fly to Orlando, Florida, chided himself for not heeding the forecast.
"I knew it was right around the corner, and behold I stayed that one extra day and paid the price. So I was able to spend the evening here at beautiful O'Hare and had plenty of company," Mark McCoy told the Associated Press.
"It's all part of the Thanksgiving travel experience," he added.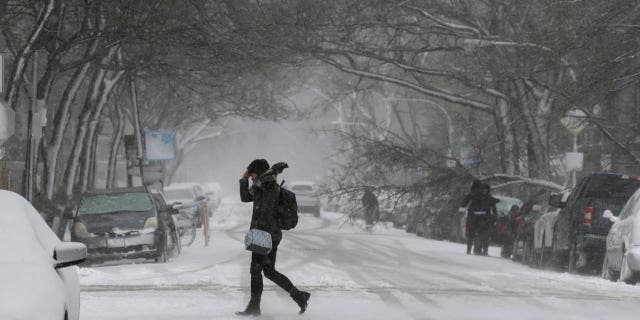 Further west in Kansas City, which got the brunt of the storm on Sunday, officials warned travelers that morning flights out of Kansas City International Airport were facing cancellations due to aircraft not being able to get in.
The airport was forced to close for several hours due to low visibility and heavy snow, as maintenance crews had to clear the runway.
Bridget Fortner, who was trying to get to Newark, New Jersey with her family had to connect through Chicago and had their original flight canceled.
"It's gonna be a long day," she told FOX4.
MIDWEST SNOWSTORM CANCELS HUNDREDS OF FLIGHTS AS HOLIDAY WEEKEND WINDS DOWN
Drivers trying to get around the region did not have any better luck.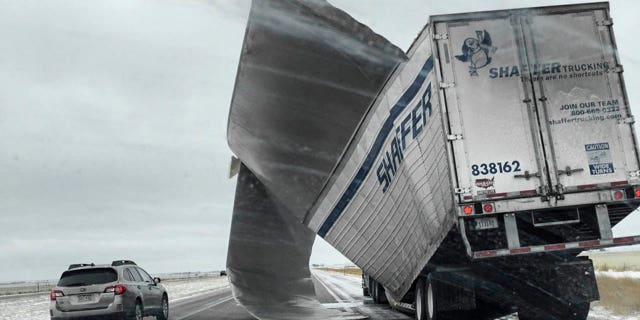 In Kansas, a large stretch of Interstate 70, spanning much of the state, was closed between Junction City and WaKeeney on Sunday, and Gov. Jeff Colyer declared a state of emergency. Separately, a portion of Interstate 29 was shut down due to heavy snow in Missouri, near the Iowa border.
Heavy snow also left motorists stranded in western Illinois, forcing police to use snowmobiles to rescue people trapped in their cars.
Illinois State police and LaSalle County emergency management said crews were removing people from their cars by snowmobile and urged people to stay off the roads into Monday, WBBM-TV reported.
Conditions are expected to improve Monday as the storm system moves out, but downed tree limbs and power lines will continue to affect people throughout the day.
The Associated Press contributed to this report.