Baltimore teacher sex case: Spanish instructor left during daytime hours to record sex act with student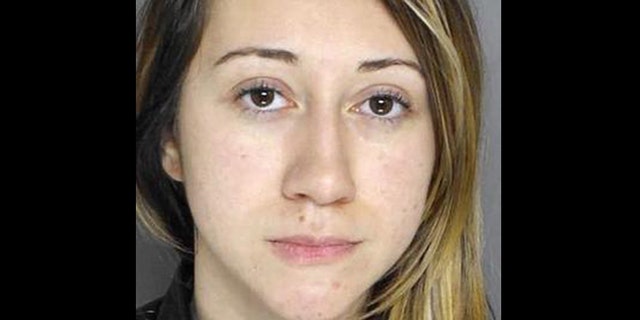 NEWYou can now listen to Fox News articles!
A former Maryland high school teacher who left the building during daytime hours to record a sexual encounter with a student at the teen's home has been sentenced to three years in prison.
Ekatherine Pappas, 25, pleaded guilty in Baltimore County Circuit Court last month to three counts of fourth-degree sex offense – all misdemeanors -- and received a three-year sentence, the Baltimore Sun reported Monday.
The Spanish teacher at Franklin High in Reisterstown had bought a plane ticket and left the country for Colombia in January on the same day police announced a warrant for her arrest. Authorities uncovered a video of her engaged in a sexual act with the 16-year-old male student and had interviewed the victim.
"I cannot begin to explain the terror of being notified that my son had been sexually abused and it was on videotape that had been circulated throughout the school for others to see," his father said in court, according to The Baltimore Sun.
The victim had told detectives that Pappas asked him to leave the school twice during daytime hours in December and drove with him to his home, where one of the encounters was taped, court documents said.
A school employee later became aware of the video and reported it to police. Pappas returned to Dulles International Airport weeks later and was arrested after landing, the Baltimore Sun reported.
Baltimore County prosecutor Perry Wasserman told the newspaper that Pappas' sentence was suspended for all but one year and one day, and the teacher was taken into custody after the hearing.
Pappas also was hit with five years of "specialized and enhanced supervised probation for sexual offenders" after her release, Wasserman added.
The student has not returned to the school and school officials previously said Pappas had started working there about a month before the incident.
"As a young man, this entire ordeal has been extremely confusing for him, just as it would be for any victim that is exposed to sexual activity before they are at a level of maturity," the student's father said in court.