'Baby Joseph' Returns Home to Canada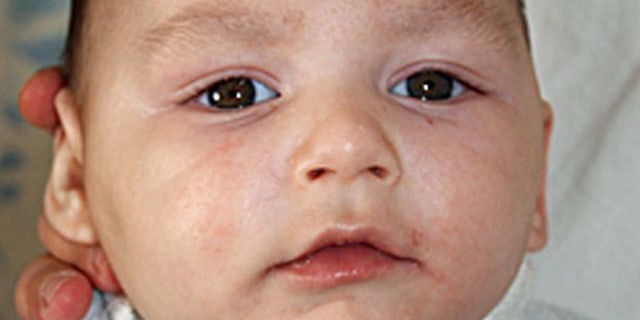 A 15-month-old boy at the center of an end-of-life debate on Thursday left the St. Louis hospital that treated him after doctors in his native Canada refused, doctors and family friends said.
Joseph Maraachli left Cardinal Glennon Children's Medical Center in St. Louis before dawn Thursday and flew with his parents and 7-year-old brother back to Canada, exactly one month after receiving a tracheotomy.
The Rev. Frank Pavone of New York City-based Priests for Life, which lobbies against abortion rights and euthanasia and paid for Joseph's transfer to St. Louis, confirmed that the family was back in their Ontario apartment after a brief checkup at a Windsor hospital.
"It's just a great thing," Pavone said.
Known as Baby Joseph, the child suffers from the progressive neurological disease Leigh Syndrome. Doctors in Canada had refused to perform the tracheotomy, saying it was futile because the disease is terminal, and an Ontario court decided doctors could remove the child's breathing tube.
His family sought help from American hospitals, and Cardinal Glennon agreed to treat Joseph.
Joseph's parents are overjoyed with his progress, said Brother Paul O'Donnell, a family friend.
"I would say they think it's a miracle. It's absolutely astounding," O'Donnell said. "He is on a lot less medication. He is doing phenomenal."
St. Louis doctors said the procedure provides Joseph with increased mobility and comfort while providing a more stable airway. It protects his lungs from inhaled saliva or other material that could cause aspiration pneumonia.
Doctors have declined to predict if the procedure will extend Joseph's life but his family believes it could add months.
"By providing him with this common palliative procedure, we've given Joseph the chance to go home and be with his family after spending so much of his young life in the hospital," said Dr. Robert Wilmott, chief of pediatrics at Cardinal Glennon.
The child's father, Moe Maraachli, said in a statement that he was grateful for all of the support in recent weeks.
"So many people from the United States and Canada and all around the world have reached out, sent letters and called my family to let us know they were praying for us and thinking about us," Maraachli said. "This has really helped our family through this hard time, to know there is so much kindness in the world."
The hospital originally expected to send Joseph to a St. Louis rehabilitation hospital, but said he responded so well to the tracheotomy that he could be sent home instead.
Joseph's story drew international attention after doctors at London Health Sciences Centre in Ontario, where he had been treated since October, determined that he was in a permanent vegetative state and that his condition was deteriorating, and they planned to take him off of assisted breathing.
Joseph's parents, who lost an 18-month-old child to the same disease eight years ago, challenged the hospital's finding in court but lost. Maraachli and Sana Nader contended that removing their son's breathing tube would cause him to suffocate and cause him undue suffering, and they sought to compel doctors to give Joseph a tracheotomy that would allow him to breathe through a tube inserted into his throat.
They said the tracheotomy could extend his life up to six months -- as they say it did for their other child who died -- and would allow him to die at home.
After losing in the courts, Joseph's parents enlisted support for their cause using social media sites, but the hospital refused to reverse course. So they began reaching out to U.S. hospitals, and Cardinal Glennon agreed to care for their son.
O'Donnell said Joseph's parents do not believe he is in a vegetative state.
"This is a baby that when his father was talking to him on one side of the room he'd look to his father, and when his mother spoke he'd look to her," said O'Donnell, who also said he has seen the child throw temper tantrums when, for example, he gets changed when he doesn't want to.
The London Health Sciences Centre did not immediately return a phone call seeking comment.