Aurora shooter brought gun to termination meeting, opened fire as soon as he was fired, police say
A disgruntled worker who went on a shooting rampage at a manufacturing warehouse in a Chicago suburb brought the weapon to his termination meeting and opened fire as soon as he was fired, police say.
Gary Martin, 45, was killed by police after he shot five people dead at the Henry Pratt Company on Friday in Aurora and injured 11, including five police officers. Officers believe that at least several of Martin's victims were those present during his termination meeting, according to a statement obtained by CNN.
Martin worked for the plant for 15 years, and his firing was the result of multiple workplace rule violations, according to Scott Hall, the CEO of Mueller Water Products, which owns Henry Pratt Company.
Aurora Police Chief Kristen Ziman revealed the new information about Martin's motives at a press conference on Saturday.
AURORA SHOOTING VICTIMS RANGED FROM HR INTERN TO PLANT MANAGER
"During this meeting he was terminated and my understanding from the witnesses is that he opened fire right after the termination," she said. "We believe that several people who were involved in that meeting are the ones who are deceased."
After opening fire during the meeting, Martin then ran down aisles of the manufacturing plant and was shooting people using a pistol with a green laser sight on it.
One employee of the plant said that a blood-soaked victim told him that Martin simply "went ballistic."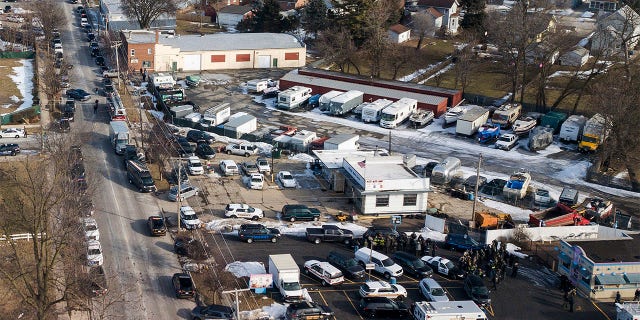 The identities of his five victims were revealed on Saturday, and included Trevor Wehner, a college student on his first day of an internship with the company; Clayton Parks, a human resources manager; Josh Pinkard, a plant manager; Russell Beyer, a mold operator and Vicente Juarez, a stockroom attendant.
At least three of the five police officers he injured during the 90-minute shootout were still in the hospital as of Saturday, according to police.
Martin was not legally allowed to own a gun, and was illegally in possession of the one he used during Friday's attack. In 2014, he passed a background check and purchased a .40-caliber Smith & Wesson handgun, but later was denied a concealed-carry permit because his background check revealed a felony conviction.
AURORA WORKPLACE SHOOTER WAS SET TO BE FIRED BY COMPANY, POLICE CHIEF SAYS
in 1995, Martin was convicted of aggravated assault in Mississippi. His Firearm Owner Identification Card was then revoked, and he was allegedly sent a letter ordering him to give up his weapon, though it is unknown whether he ever received it or if he failed to surrender the weapon.
In addition to his Mississippi conviction, Martin was also reportedly arrested several times in Aurora for traffic stops and domestic violence incidents. He was also charged in Oswego, Illinois, in 2017 for disorderly conduct and criminal damage to property, police say.
CLICK HERE FOR THE FOX NEWS APP
The means by which he was still in possession of a firearm on Friday will be investigated along with the rest of the incident.
"We're looking into whether we followed up on that, and what agencies followed up on that," Chief Ziman said.