Arizona sheriff, actor Steven Seagal conduct training on school safety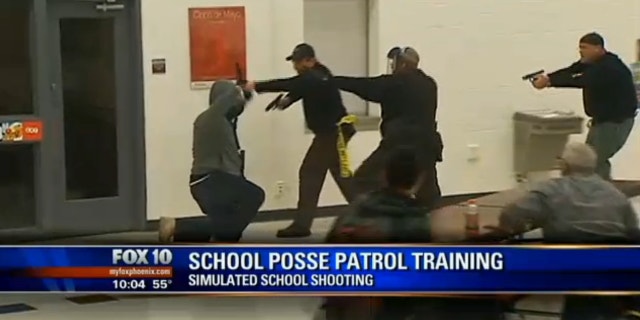 PHOENIX – The self-proclaimed "America's Toughest Sheriff" joined forces this weekend with action movie star Steven Seagal to train volunteer armed posse members to defend Phoenix-area schools against gunmen.
Maricopa County Sheriff Joe Arpaio announced the controversial plan in the wake of the Newtown, Conn., school shooting that left 27 people dead, including the gunman and 20 first-graders.
The exercise took place Saturday at a closed school site in suburban Fountain Hills, outside Phoenix, where sheriff's SWAT members acted as shooters and teenagers played the part of students during mock scenarios involving up to three gunmen.
Seagal, best known for his roles in movies such as "Above the Law" and "Under Siege," planned to lead training on hand-to-hand defense tactics, among other techniques, drawing from his expertise in martial arts, according to a sheriff's office news release.
Arpaio's office didn't respond to requests for comment Friday and Saturday, and Seagal representatives also did not return telephone messages from The Associated Press.
When faced with criticism in January about the school posse plan, Arpaio snapped back, "Why would people complain about my posse being in front of schools to act as prevention?"
He boldly announced the plan on the grounds of an elementary school, saying at the time he wanted the patrols publicized.
"I want everyone to know about it for the deterrence effect," Arpaio said, adding that no taxpayer money would be spent on the patrols and volunteers will be supervised over the radio or telephone byar about the initiative.
"A lot of people sit around and watch these things happen, watch key signs and no one wants to do anything about it," she said when Arpaio announced the plan. "Nobody wants conflict, nobody wants to be out in the limelight. And he doesn't care. He wants to do the right thing."
Andrew Sanchez, however, a town council member in Guadalupe, said he wants nothing to do with posse members patrolling schools in his community, which spends about $1.2 million annually for Maricopa County sheriff's patrols.
"We are paying him to have certified deputies here, not to bring a circus and not to use our town as a political platform," Sanchez has said.
The volunteers, dressed in uniforms and driving patrol vehicles, some authorized to carry guns after training, won't go onto school grounds unless they spot danger, but will instead patrol around the facilities, Arpaio said.
Seagal is already a volunteer posse member in Maricopa County and has been deputized with sheriff's offices in New Mexico, Texas and Louisiana, where a film crew followed the actor on ride-alongs with Jefferson Parish sheriff's deputies for the reality TV show "Steven Seagal: Lawman."
Arpaio says other notable people also have joined his more than 3,000-strong volunteer armed posse, including "The Incredible Hulk" star Lou Ferrigno and actor Peter Lupus of TV's "Mission: Impossible."