Arizona serial killer suspect linked to nine killings in three weeks
An Arizona man has been accused of a stunning murder spree in which he allegedly killed nine people in three weeks -- a rampage that would make him one of the most prolific serial killers in the state's history.
Cleophus Cooksey Jr., 35, was arrested on Dec. 17, 2017, after police responded to a call of shots fired in Phoenix. When officers arrived they found Cooksey's mother and stepfather dead. Cooksey was not linked to the other homicides until he was in custody, police said Thursday.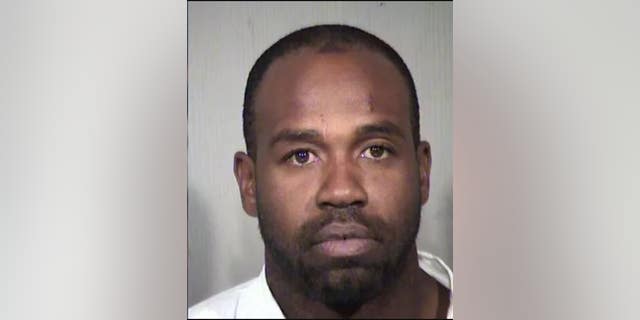 Investigators used shell casings to link the other murders, police said. Phoenix Mayor Greg Stanton said new technology allowed officers to determine the evidence was linked to the suspect quickly.
Cooksey was charged with a total of nine counts of first degree murder, as well as being a prohibited possessor, theft of a firearm, armed robbery and sexual assault, police said.
Cooksey's other alleged victims include the brother of his ex-girlfriend and various men and women of black, white and Hispanic race and ethnicity, AZ Central reported.
PREGNANT NANNY, 24, DIES AFTER BEING HIT BY STRAY BULLET IN ARIZONA DESERT POPULAR FOR TARGET SHOOTING
The victims include:
- Two men, Andrew Remillard, 27, and Parker Smith, 21, who were discovered dead Nov. 27.
- One man, Salim Richards, 35, was found critically wounded on Dec. 2, and later died at the scene. It was not immediately clear if Richards knew the suspect. Police said there were signs of a robbery at the crime scene and a handgun appeared to have been taken.
- On Dec. 11, Jesus Bonifacio Real, 25, the brother of Cooksey's former girlfriend, was killed.
- On Dec. 13, Latorrie Beckford, 29, was shot and killed.
- On Dec. 16, 2017, Kristopher Cameron, 21, was discovered shot to death in a field. Police said Cameron appeared to have met with the suspect for a drug interaction. On the same day, Maria Villanueva, 43, was found dead. Villanueva was allegedly kidnapped from her car after the suspect approached her vehicle. The two allegedly drove off before Villanueva was found dead with signs of sexual assault, police said.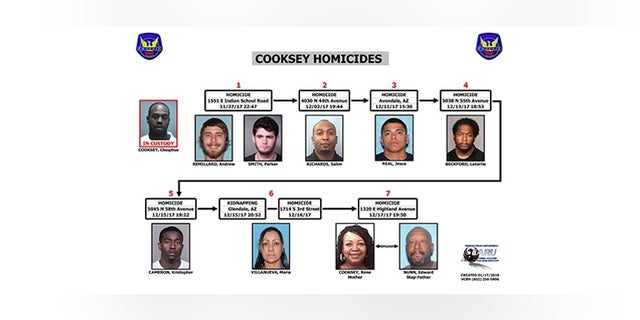 - On Dec. 17, Rene Cooksey, 56, the suspect's mother, and his stepfather, Edward Nunn, 54, were shot and killed. Cooksey was then arrested.
Cooksey has a long criminal history, AZ Central reported. The suspect was convicted of manslaughter when he was 18. While in prison, he was found guilty of assaulting prison employees, drug possession and fighting. He was released from prison in January 2015 and received a DUI in November of that year.
The suspect took up rapping following his prison release, going by the name "King Playbola." He posted videos on YouTube of his music.
Cooksey was arrested again in May 2016 on a "technical violation" and went back to prison. He was freed on June 20, 2016, but was arrested and booked in December due to another arrest warrant. On July 28, 2017, Cooksey was released. Four months later, he allegedly engaged in the killing spree.
ARIZONA WOMAN STRANGLES MOM AFTER SHE WASN'T ALLOWED TO USE HER CAR, COPS SAY
Cooksey, the grandson of civil-rights leader Roy L. Cooksey, reportedly had a troubled childhood. He reportedly moved out when he was 16 years old. The suspect said he was abused by his father and was hospitalized when he was 12 years old.
The Maricopa County Attorney's Office will decide what Cooksey will be charged with during the investigation. Police have asked the public for any information about the suspect or deaths.