Arizona college imposes fee to fund scholarship for illegal immigrants
A private college in Arizona is charging students a fee to fund a scholarship for illegal immigrants, a controversial move supporters say gives a hand to those who need it but anti-illegal immigration advocates call irresponsible.
Prescott College is tacking a $30 annual fee onto its $28,000 annual tuition to establish an annual scholarship for "undocumented" students, as part of a policy first proposed by students and faculty from the undergraduate and Social Justice and Human Rights Master of Arts divisions. While students can opt out of paying the fee, if they do nothing it will be automatically imposed. Backers say it helps reverse what they call Arizona's reputation as a "national example of discriminatory politics."
"I am proud that our students take on the role of scholar activists," said school President John Flicker, adding that the university is committed to "broaden access to higher education for a diverse group of students" and "mobilize its resources towards social justice."
"It is beyond absurd that this college is going to force all the students to subsidize the education of a student who is in the country illegally," Vaughan
Supporters note that illegal immigrants are allowed to attend state and private colleges in Arizona, but in most cases cannot legally work or receive government grants or loans.
Making legal residents enrolled at the school pay for illegal immigrants' education is a slap in the face to a generation already facing its post-college years saddled with enormous debt, said Andrew Kloster, legal Fellow for the Center for Legal & Judicial Studies at Heritage Foundation.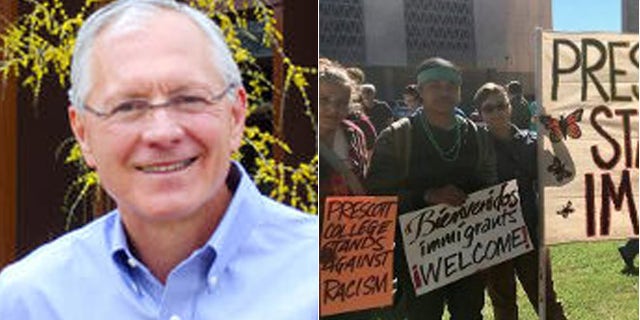 "At a time when student loan debt is over $1 trillion it is irresponsible for Prescott College to offer this privilege at the expense of other students," Kloster said. "While the dollar amount seems small per student, the fee does send a message to potential donors to Prescott College that the administration is less concerned with sound financial management than it is with making a political statement," Kloster added.
Jessica Vaughan, director of policy studies for the Washington-based Center for Immigration Studies, said poor students in the country legally should take precedence.
"It is beyond absurd that this college is going to force all the students to subsidize the education of a student who is in the country illegally," Vaughan said. "It's a shame these students and faculty don't have the same drive to help some of their fellow citizens who can't afford college and who are forced to compete with illegal workers for job opportunities."
The program, which likely will be expanded beyond a single scholarship beginning next year, will help celebrate "Coming Out Day," an annual event hosted by United We Dream in support of undocumented students, the school's web site said.
Arizona has an estimated 65,000 undocumented high school graduates in the state, with as many as 6,500 pursuing higher education, Prescott College officials said. The college, which has 400 undergraduate students on campus, maintains undocumented students "are not expressly prohibited by law from admission to state colleges and universities" and "no federal statutes require disclosure and proof of immigration status and citizenship for students to enter higher education."
The new scholarship can go full or part-time undocumented students in undergraduate or graduate programs that demonstrate financial need – even students set for deferred removal action under federal immigration law. Applicants may not be a legal permanent resident and may not possess a green card, visa, or other legal documentation.
Miriel Manning, founder of the Freedom Education Fund and a student in Prescott College's Social Justice and Human Rights Master of Arts program, said students were inspired by "courageous leadership and organizing of undocumented leaders across the country."
"Within the current political landscape of Arizona it is critical that Prescott College shows our commitment to education as a human right," Manning said.
Only one other school in the nation, Chicago's Loyola University, is known to have a similarly funded scholarship. Students there pay an extra $2.50 to pay for tuition for illegal immigrants.