AP source: DEA chief set to resign soon; had faced mounting pressure on Capitol Hill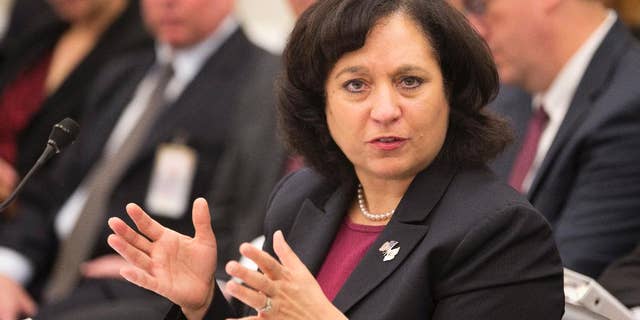 WASHINGTON – The head of the Drug Enforcement Administration, Michele Leonhart, is expected to resign soon, an Obama administration official said Tuesday.
Leonhart is a career drug agent who has led the agency since 2007 and is the second woman to hold the job.
She has faced mounting pressure from Congress, where some questioned her competence in the wake of a scathing government watchdog report detailing allegations that agents attended sex parties with prostitutes.
Leonhart was widely criticized for her response to the report and a group of lawmakers said in a statement that she was "woefully unable to change" the agency's culture.
The official spoke on condition of anonymity because a formal announcement had not yet been made.
Lawmakers have been pushing for Leonhart's ouster since her disastrous appearance before the House Oversight Committee last week. A majority of the committee said they had lost confidence in her and said she "lacks the authority and will to make the tough decisions required to hold those accountable who compromise national security and bring disgrace to their positions."
The Justice Department report that jeopardized Leonhart's job recounted allegations that drug agents attended sex parties with prostitutes, some funded by local drug cartels, in a foreign country. The DEA said the incidents happened in Colombia.
The no-confidence statement was signed by 13 House Democrats and nine Republicans, including Chairman Jason Chaffetz of Utah and the committee's top Democrat. Chaffetz went a step further, calling for Leonhart to resign or be fired.
Last week, the White House voiced concerns about the Justice Department report.
In a daily press briefing Tuesday, White House spokesman Josh Earnest wouldn't comment on reports that Leonhart was set to leave the agency and instead reiterated that the Obama administration had "concerns about the material that was presented in the (inspector general) report that raised legitimate and serious questions about the conduct of some DEA officers.
"The president, as you know, maintains a very high standard for anybody who serves in his administration, particularly when it comes to law enforcement officials. And the -- the I.G. report raised serious concerns about that conduct," Earnest said.
Leonhart canceled an appearance to receive an award Tuesday from sponsors of the Border Security Expo, a trade show in Phoenix for government contractors. Doug Coleman, the DEA's special agent in charge in Phoenix, accepted on her behalf. It was not immediately clear why she canceled her appearance.
Robert Bonner, a former DEA administrator and Customs and Border Protection commissioner, told the luncheon audience that Leonhart was being unfairly blamed for agents' misconduct. He said last week's House hearing presented a "jumbled and distorted" picture of the agency, much of it untrue.
"Sadly what we're witnessing in Washington is gotcha politics in action," he said. Bonner said he hoped Leonhart stays on the job, adding that she lacked authority to fire agents with civil service protections and shouldn't be blamed for punishments that were perceived as being too light.
Lawmakers have criticized the DEA and Leonhart specifically for what they described as lenient punishments for agents accused of wrongdoing.
Leonhart has previously been the target of online petitions calling for her ouster after she distanced herself from the administration's stance on legalized marijuana, seen as a hands-off approach that lets states legalize marijuana so long as it is state regulated. Marijuana remains illegal under federal law and is classified by the DEA as a Schedule 1 drug, along with drugs such as heroin and peyote.
Leonhart also declined to fully endorse sentencing reform efforts supported by the Justice Department.