Antifa members in Berkeley smash windows of US Marine Corps recruiting office during protest
An Antifa protest in Berkeley turned violent Sunday when one masked group member sucker-punched a detractor and other agitators smashed the windows at a Marine Corps recruiting post, cellphone video showed.
Authorities arrested 20 people during the dueling California demonstrations between Antifa and individuals affiliated with the so-called "alt-right." Three people suffered minor injuries after a group of "extremists" threw "explosives" -- believed to be fireworks and flares -- at police and the Alameda County Sheriff's officers. No members of law enforcement were hurt.
In a series of photos posted to Twitter by filmmaker Ford Fischer, members of Antifa can be seen smashing the windows of the U.S. Marines Corps recruiting office on Shattuck Avenue.
"No police were around as the black bloc traveled down the street, and a handful used hammers to smash the windows of Shattuck Ave US Marine Corps Recruiting office," Fischer wrote in a tweet.
He added: "After I filmed the antifa break the Marine Corps office window and throw a torch into a dumpster, one of them called a few over to confront me. They basically told me to leave, implying attack if I didn't. I left. 'Get the f--- back. Cops aren't here. They won't help you."
BERKELEY POLICE ARREST 20, SEIZE 'DOZENS OF WEAPONS' AT OPPOSING PROTESTS
Besides the damage to the Marine Corps post, Berkeley police also said "an extremist element among a large group" damaged 21 city vehicles, setting one on fire, and slashed their tires. The group also set fires in trash bins, which were extinguished quickly. Officials did not identify the "extremist element."
The incident began percolating days earlier when two groups announced plans for a "No to Marxism" rally at the city's Civic Center Park, an announcement that prompted plans for a "Sweep Out The Fascists" march. A counter-rally drew hundreds of people downtown.
City officials said neither group had sought or obtained a permit for their respective rallies. On Friday, police issued rules prohibiting masks and items that could be used as weapons.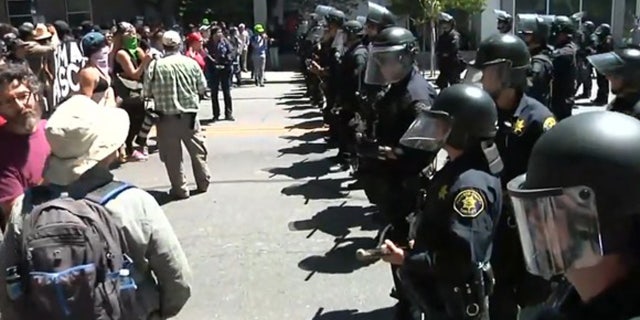 Police said the list of banned items at Civic Center and Ohlone parks included metal pipes, baseball bats, glass bottles, pepper spray, knives or daggers, shields and slingshots, KTVU reported. Police also banned people from wearing masks, scarves or bandannas or anything covering their faces except for religious or medical reasons. Multiple videos taken of the demonstrations, however, showed several people -- mostly Antifa-aligned -- wearing masks.
Sunday's protests in California came one day after police in Portland, Ore. clashed with demonstrators.
PORTLAND POLICE IN RIOT GEAR CALLED IN TO CLEAR CLASHES BETWEEN PROTESTERS
Protesters aligned with Patriot Prayer and an affiliated group, the Proud Boys, met in a park at a rally organized by their group leader, Joey Gibson. But they were met by Antifa protesters carrying signs saying "Nazis go home" and "Alt right scum not welcome in Portland."
Police reportedly ordered the counter-protesters to disperse, then moved in behind a volley of stun grenades. One of the rounds hit a counter-protester in the head, becoming embedded in his helmet and injuring him, reports said. One woman was taken to a hospital after being hit in the arm and chest with a "flash-bang" grenade.
Another video showed an Antifa member wearing all black sucker punching someone as he was having a heated conversation on a sidewalk.
WARNING: STRONG LANGUAGE BELOW
At one point, authorities deployed "flash bang" devices to break up the feuding parties. Long sticks and homemade shields were confiscated, the AP reported.
Fox News' Robert Gearty and Samuel Chamberlain and The Associated Press contributed to this report.