Amtrak, CSX train collision in South Carolina leaves 2 dead, over 100 injured, officials say
Two Amtrak personnel were killed and over 100 others were injured when an Amtrak passenger train collided with a parked CSX freight train early Sunday just outside the capital of South Carolina, officials said.
The South Carolina Emergency Management Division said Amtrak 91 was traveling from New York to Miami when it collided with the CSX train in Pine Ridge around 2:35 a.m.
"It appears to me that the CSX train was on the track it was supposed to be on," South Carolina Gov. Henry McMaster said at a news conference. "It appears Amtrak was on the wrong track. That's what it appears to me."
Amtrak said in a statement the train's lead engine derailed, as did some passenger cars that was carrying eight crew members and approximately 139 passengers on board. TV footage from the crash scene showed the aftermath of the collision, with the Amtrak engine on its side and its front crumpled.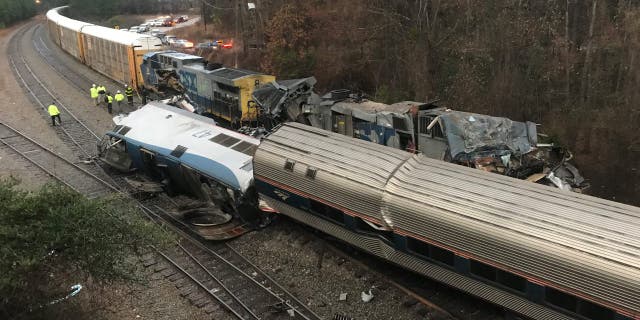 McMaster said the two people killed in the crash were Amtrak personnel and 116 people were taken to area hospitals. Lexington County Coroner Margaret Fisher identified the two victims of Amtrak crash as engineer Michael Kempf, 54, and conductor Michael Cella, 36. Fisher said that several people remain in critical condition.
"We have anywhere from scratches and bumps to more severe broken bones," Lexington County spokesman Harrison Cahill told reporters.
"It appears to me that the CSX train was on the track it was supposed to be on. It appears Amtrak was on the wrong track. That's what it appears to me."
McMaster said the first engine of the freight train was "torn up," while the engine on the Amtrak train is "barely recognizable." The governor added that no one was on the CSX train at the time of the crash, and the Amtrak train was estimated to be going 59 mph.
"Two trains, that's as forceful as can get," he said, adding that "I would ask this is a Sunday, everyone go to church and say a prayer for these people involved."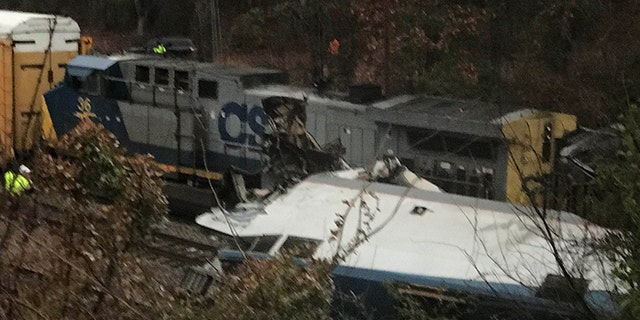 In its statement, Amtrak it is cooperating fully with the National Transportation Safety Board, which is leading the investigation.
"CSX owns and controls the Columbia Subdivision where the accident occurred," Amtrak said. "CSX maintains all of the tracks and signal systems. CSX controls the dispatching of all trains, including directing the signal systems which control the access to sidings and yards."
Hospital officials told Fox News they have received nearly 90 patients from the crash, but most of which have been discharged already. Lexington Medical Center spokeswoman Jennifer Wilson said the facility received 27 patients from the crash, all of which had "minor injuries" and since been discharged.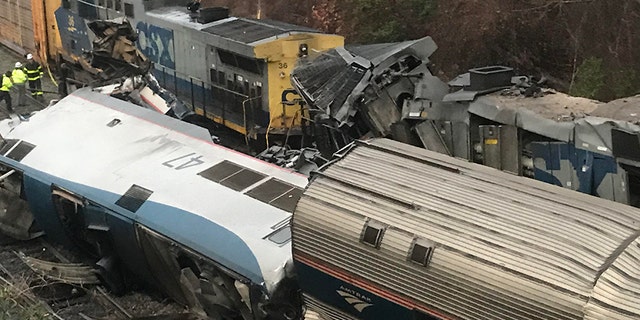 A spokesperson from Palmetto Health said they received 62 patients as a result of the crash at three of their facilities. The health care network said there are two patients that are expected to be admitted, but most are expected to be released after they are evaluated and treated.
"The thoughts of all our team members are with the family and friends of those injured in this accident," Palmetto Health spokesperson Tammie Epps said. "Palmetto Health is coordinating with local authorities, Amtrak and the American Red Cross to assist these families in any way possible."
No immediate information was available about the CSX train, but SCMED Public Information Officer Derrec Becker told reporters that officials are working to secure a fuel leak that resulted from the spill.
AMTRAK'S DEADLIEST CRASHES IN RECENT YEARS
As of now, 5,000 gallons of diesel fuel has spilled and crews are trying to secure the leak, according to Becker.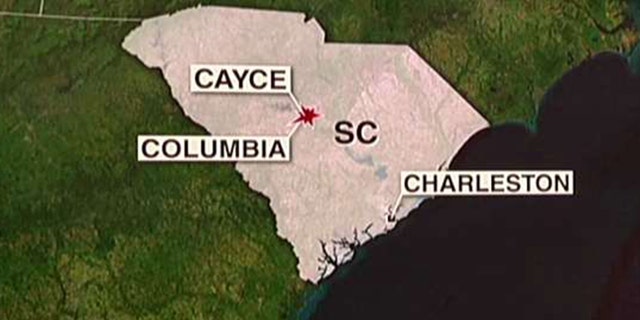 "There is no danger to anyone in the nearby area of Lexington County," Becker told "FOX & friends Weekend."
Amtrak officials gathered up luggage and other belongings and within hours put passengers aboard buses to their destinations. Before being sent on their way, those who were not hurt were taken to a shelter, and local businesses provided coffee and breakfast.
Amtrak said that anyone with questions regarding passengers on the train can contact them at 1-800-523-9101.
South Carolina's Red Cross chapter tweeted that emergency responders were at the scene. The people who weren't hurt were taken in patrol cars to a shelter, Lexington County Sheriff's spokesman Adam Myrick said.
"We know they are shaken up quite a bit. We know this is like nothing else they have ever been through. So we wanted to get them out of the cold, get them out of the weather - get them to a warm place," Myrick said.
The National Transportation Safety Board said it was launching a "Go Team" to investigate the deadly crash and plans a press conference for later in the day.
President Trump tweeted about the crash on Sunday, saying "my thoughts and prayers are with all of the victims involved in this mornings train collision in South Carolina. Thank you to our incredible First Responders for the work they've done!"
Trump was briefed on the train accident and is receiving regular updates, according to Deputy White House Press Secretary Lindsay Walters.
This is the third Amtrak crash since December. On Dec. 18, an Amtrak train derailed in Washington state, killing three people and injuring dozens more. Just last week, one person in a truck died when an Amtrak crash carrying Republican members of Congress struck the vehicle at a crossing. Two other people in the vehicle were severely injured.
Fox News' Bryan Llenas, Lucas Tomlinson, Terace Garnier, and The Associated Press contributed to this report.