American Red Cross Official Defends Fundraising Efforts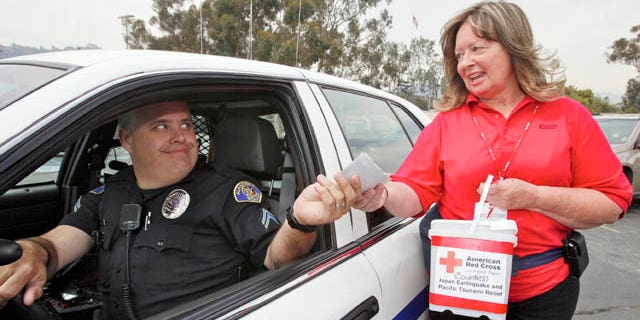 NEWYou can now listen to Fox News articles!
The American Red Cross is defending its fundraising efforts following a scathing published report that inferred the charity group is among those with "little direction" while raising money for the victims of the Japanese earthquake and tsunami.
Samuel Kille, senior director of public relations for American Red Cross' Metro New York chapter, said the organization sent $10 million of the $34 million it had raised through Tuesday to Japan for victims of last week's disaster. And although the Japanese Red Cross had initially indicated it did not need outside assistance, the organization ultimately said it would "gladly" accept the funds, he said.
"As they determine their needs, we will provide more funds," Kille told FoxNews.com on Wednesday.
But the initial refusal of funds by the Japanese Red Cross "has not stopped" the American Red Cross from raising money "in the name of Japan's disaster victims," according to a report Tuesday by the New York Times.
The Times article also noted that the American Red Cross keeps 9 percent of any money it raises -- a fact confirmed to FoxNews.com by Kille, who said that a portion of donations are earmarked for administrative costs. That equates to more than $3 million for administrative costs out of the money raised in the Japan campaign as of Tuesday, the Times reported.
"I don't think it's fair," Kille said of the report. "I think it's just misunderstanding what our role is during an international response and that role is heavily dependent on the nation affected. The Japanese Red Cross is very well trained, they're 2 million strong and they have a really good system in place."
Kille continued, "Of course, like any agency, we have bills to pay. When you look at a lot of nonprofits, we lead the way. So we're quite proud."
As of Wednesday, the American Red Cross had received roughly $2.2 million from cell phone users who sent texts of REDCROSS or GIFT to 90999. Those messages result in donations of $10 and $25, respectively, according to Red Cross officials.
The popularity of text messaging and the simplicity of the organization's mobile giving program has "changed the game" when it comes to fundraising, Kille said.
"All you have to do is take your phone and text, and at the end of the month, $10 is added to your bill," he said. "Americans are always very generous during times of disaster, especially large-scale disasters like Haiti and Japan."
Kille said donations for previous relief operations such as last year's earthquakes in Haiti and Chile are no longer being accepted since fundraising goals had been met. The Japan campaign, however, remains active.
"Our phone lines are flooded with people who are looking to help," Kille said. "And financial contributions are the best way to help, especially in an international disaster."
And once the American Red Cross reaches its as-yet-to-determined goal in regards to fundraising for Japan, the organization will shift its focus to preparing for the next domestic or international emergency.
"The Red Cross is constantly providing services -- food, shelter, health care," he said. "And we need to be ready for the next major disaster. We're very fortunate that 95 percent of our workforce is volunteer, which keeps our costs so low, but need to train those volunteers."
Kille continued, "One thing we're very proud of at the Red Cross is we've been very transparent and open as to where the money goes for these disasters. They can go to our website. We have it posted."