Alleged white supremacist killed black woman after she threatened to tell people he had HIV: cops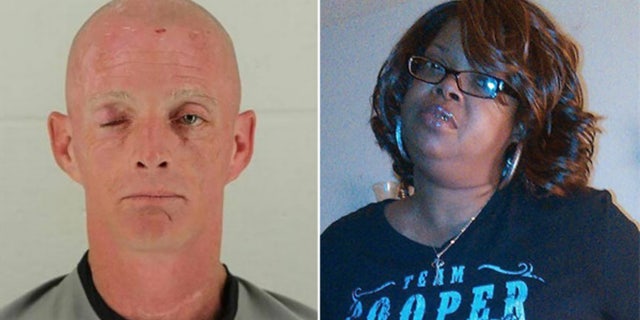 An alleged white supremacist accused of killing a black woman reportedly told police he was violently provoked during an argument in which she threatened to "tell everyone" that he was HIV positive.
Ronald Lee Kidwell, 47, who is accused of fatally stabbing MeShon Cooper, 43, at his home in Shawnee, Kansas, reportedly told police that she pulled out a knife from her purse after the threat before hitting him in the left hand, the Kansas City Star reported, citing an affidavit.
Kidwell told police that the woman's actions caused him to "flip out" and physically retaliate.
"When I get mad, I make the exorcist look like a b****," he told police, according to the document.
SETH ROGEN SAYS TWITTER CEO DOESN'T CARE ABOUT WHITE SUPREMACISTS ON THE SITE
Kidwell told police he overpowered Cooper, gaining control of the knife before he stabbed her with it. Cooper was reported missing on July 3.
Kidwell's remarks to police came after a joint investigation by police led officers to his home on July 14, according to the report. Police said phone records showed Cooper had visited Kidwell's home the day she went missing.
When police arrived at Kidwell's home, they found an "overwhelming smell of bleach," which prompted a request for a search warrant, the affidavit read.
Kidwell initially told police that he had no knowledge of the woman's whereabouts, according to the Star, allegedly telling cops that she was killed by individuals from Kansas City.
COLLEGES SEE SHARP RISE IN WHITE SUPREMACIST PROPAGANDA
Eventually, Kidwell allegedly confessed to the crime, saying he "would never be released from prison." He then told police where to find Copper's body – wrapped in trash bags inside a trashcan in his garage.
Kidwell, who reportedly lost his right eye when pit bulls attacked him when he was seven-years-old, was charged with second-degree murder with bail set at $1 million.
People who know him are not surprised of the accusations against him.
His estranged daughter, Crystal Foster, told the Star that her father was a proud white supremacist who would drape himself in the Confederate Flag and bragged about his membership with the Ku Klux Klan.
She added that he once threatened to kill her and her three children "if I ever spoke to a person of color."
"He's been a monster his whole life," Foster said. "He's the true definition of evil."
Kidwell has a history of violence and was even sentenced to five years in prison after he plead guilty in 2011 to hitting a sleeping black woman on the head with a hammer and sexually assaulting her.
Kidwell's cousin, Shana Turner, told the newspaper that anytime she was around him, "he'd talk about white power."
The FBI nor the Johnson County District Attorney's Office have commented on whether the case is being investigated as a hate crime.