ACLU Sues to Expand Immigrant's Gun Rights in South Dakota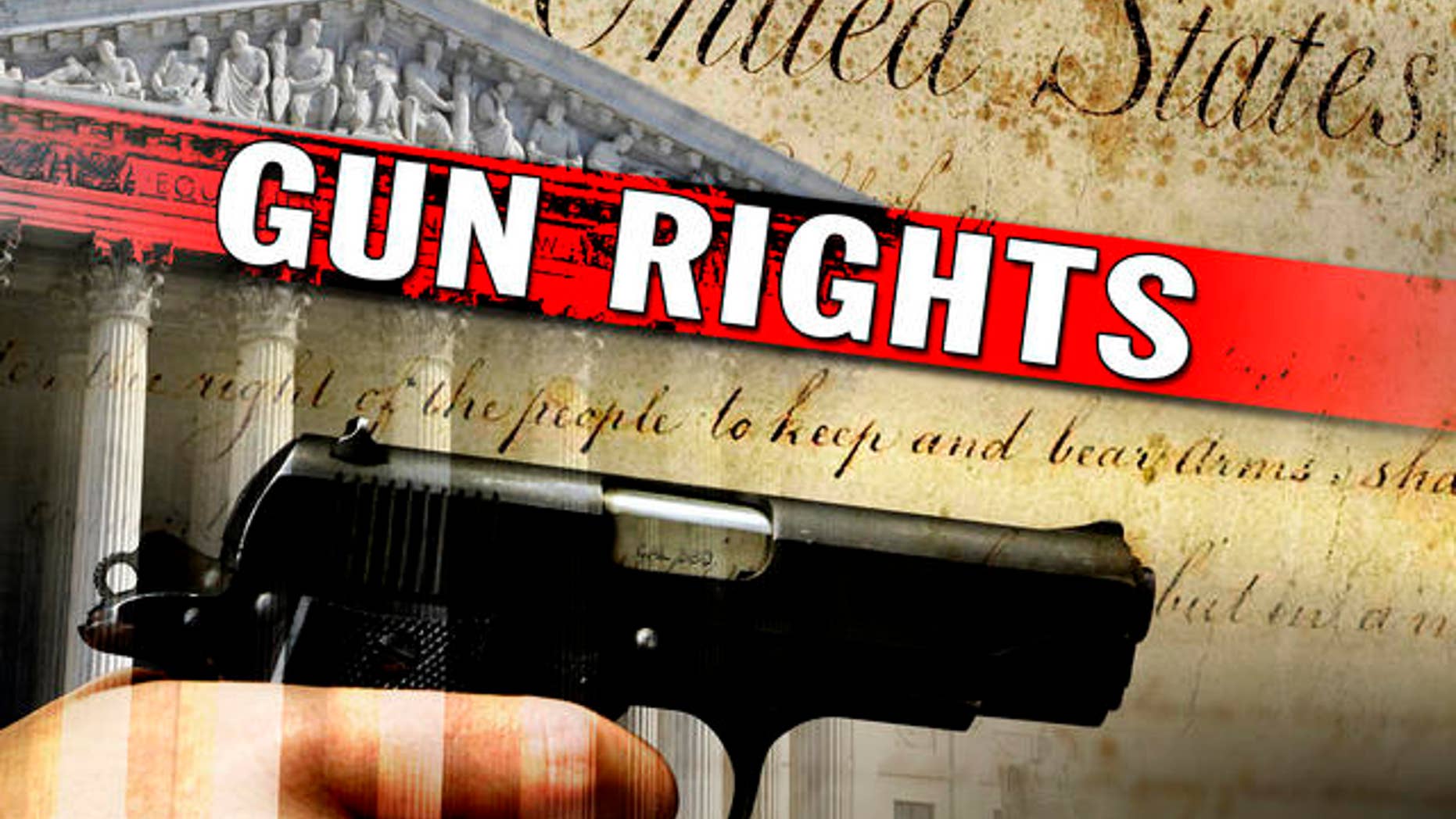 The ACLU has filed a lawsuit on behalf of a non-U.S. citizen that alleges South Dakota's concealed weapons law is discriminatory – a legal move that one gun-rights group warns will open the door to arming illegal immigrants.
The lawsuit was filed this week on behalf of British national Wayne Smith, who legally immigrated 30 years ago, and for years was able to get a concealed license. In 2002, however, South Dakota amended the law, making U.S. citizenship a requirement to carry a concealed weapon. When Smith went to renew his long-held permit last July, he was denied because he is permanent legal resident, not a citizen.
The ACLU says that's a blatant violation of the 14th Amendment which it says prevents states from being able to make such "arbitrary designations."
But supporters of the law say the state has every right to keep guns away from non-citizens.
South Dakota Secretary of State Jason Gant says the legislature added the citizenship requirement with the intent of protecting the people of South Dakota.
"We went back and listened to the testimony from 2002 and it was in response to 9/11 as well as wanting to make sure that only U.S. citizens were receiving these permits," Gant told FoxNews.com.
Nebraska and North Dakota have similar requirements.
ACLU of South Dakota's Executive Director Robert Doody says regardless of the motives, the restriction is unconstitutional.
"That to us is a discrimination based upon alienage which would run against the 14th amendment's prohibition against discrimination upon alienage," Executive Director of ACLU of South Dakota Robert Doody told FoxNews.com.
Following the example of a similar case, the group filed a civil complaint Monday against the Minnehaha County Sheriff's Office and secretary of state on Smith's behalf. In addition it also filed an injunction against enforcing the "unconstitutional piece" of the statute.
In 2008, the ACLU secured an injunction against a Kentucky law after the state denied a concealed weapons permit application from U.K. citizen who'd lived in the state since 1995.
"All persons are guaranteed equal protection under the Constitution regardless of what their status is. Everyone should be treated equally by the government. And in this case we know that there are United States Supreme Court decisions out there that say that alienage is one of the highest standards of strict scrutiny, so if a state or government makes a decision based on pure alienage then that would run afoul of the 14th amendment," Doody said.
Both the Gant and Minnehaha County Sheriff Mike Milstead say they simply followed the law as they are legally obligated to do.
"I understand that there are some states in the U.S. that recognize a resident alien when it comes to concealed carry permits, we happen to be one that doesn't. So my responsibility is to enforce the law as written and that's exactly what we did," Milstead told FoxNews.com.
Constitutional attorney Noel Francisco says he thinks Smith has a "strong case."
"Legal resident aliens—that is, non-citizens who legally live in the United States—have constitutional rights. No one, for example, would say that a state could prohibit a legal resident alien from freely practicing his religion or engaging in free speech," Francisco told FoxNews.com. "Thus, if Mr. Smith does not have a criminal background or hasn't done anything else that disqualifies him from getting a permit, it's not clear to me how a state could prohibit him from getting a permit when it allows an otherwise similarly-situated citizen to get one."
Constitutional attorney Matt Rinaldi disagrees.
"There's been about 4 or 5 of those cases in federal district court, not relating to a permit but relating to the federal prohibition on firearm possession by illegal aliens. So regardless of the Sioux City law and permits the federal statute's going to trump that. All of the courts have upheld this statute… and the same principle would apply here that would apply to illegal aliens," Rinaldi told FoxNews.com.
As a non-citizen resident of the United States, Rinaldi says, Smith is entitled to some constitutional protections, including protections under the fifth and fourteenth amendment rights that apply to due process and trial procedures.
"But the U.S. has held that, for example, the fourth amendment doesn't apply and, in those illegal alien cases I referenced, that the second amendment doesn't apply ," Rinaldi said. "…I don't think it's going to succeed at all."
Even gun rights advocates are divided on the issue.
"If you're a law abiding citizen and you're allowed to buy a gun you should be allowed to carry it to defend yourself," NRA spokesman Andrew Arulananda told FoxNews.com. "Just because you're not a us citizen doesn't mean that you're somehow to immune to crime outside your home."
But Gun Owners of America Executive Director Larry Pratt says the state has every right to restrict conceal and carry permits to citizens.
"If the guy wants to enjoy the full benefit of residing in the United States become a citizen. He's been here for 30 years what's he waiting for?," Pratt told FoxNews.com.
Pratt says the only reason the ACLU brought the suit is to pave the way for illegal aliens to have conceal carry permits.
"They want to make it so illegal aliens have the same rights as everybody else...every little bit chipping away," he said.
Doody says he would never have brought the suit if Smith were in the country illegally as the constitution applies very differently to illegal immigrants vs. legal ones.
Gant says the legislature may have simply overlooked that distinction when amending the law in 2002, and may be willing to amend it again to include legal residents.
"I think the intent back in 2002 was to make sure that no illegal immigrants or people who weren't trying to become United States citizens, we were making sure that they were not allowed to get a concealed pistol permit … but I think there may be a chance when the legislature meets next week where they may look to possibly expanding that," Gant said, adding that he heard the legislature will be discussing legislation related to this issue.
In the meantime, Doody says a hearing is set for January 27 where he hopes a judge will enjoin the restriction so that Smith can reapply for his permit.