Accuser: Linda Sarsour said sexual harassment 'doesn't happen to someone that looks like you'
Pro-Palestinian activist Linda Sarsour told an employee who claimed she was sexually harassed that "something like that doesn't happen to someone who looks like you," the accuser told Fox News Wednesday night.
Asmi Fathelbab also told "The Story with Martha MacCallum" that Sarsour warned her "that I will never work in New York City ever again for as long as she lives" if Fathelbab pressed her claims.
The alleged harassment occurred in 2009 while Fathelbab was working at the Brooklyn-based Arab American Association. Sarsour was executive director of the organization for 11 years before leaving her position earlier this year.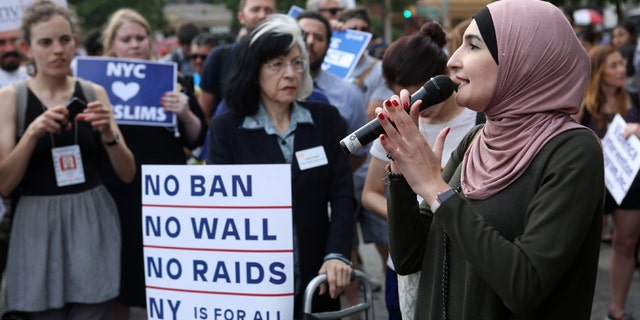 Fathelbab told The Daily Caller that Sarsour called her a liar and told her the man Fathelbab accused of harassing her "had the right to sue me for false claims" and "had the right to be anywhere in the building he wanted."
Sarsour responded to The Daily Caller story Monday with a Twitter post calling it "a new low."
"Every woman has a right to her story and I have a right to defend myself, my character and my commitment to women," Sarsour wrote.
Neither Sarsour nor the Arab American Association returned requests for comment from Fox News.
Fathelbab told MacCallum that she had come under attack on social media since The Daily Caller story was published.
"There's more body-shaming. I'm being told that I'm doing this for attention. It's politically charged, somehow," Fathelbab said. "I'm not really sure how that's possible because I'm not doing this for any reason other than wanting my story out there."
Fathelbab added that Sarsour's defenders told Fathelbab she was setting herself "against Islam" by making her claims public.
"I've studied Islam. Nowhere in there does it say that you can't say anything," Fathelbab said, "and nowhere in there does it say that … you're against the religion if you actually stand up for yourself."
However, Fathelbab said she was not surprised by the backlash.
"You're re-enacting it, telling me that I'm not a good Muslim, this never happened, I'm making up stories," said Fathelbab, addressing her social media critics. "Those are [Sarsour's] words during that whole entire ordeal. So now, everybody's just re-tweeting it. They're just doing the same thing that she did."