7-Eleven clerk lashes out at customer with broken English trying to buy cigarettes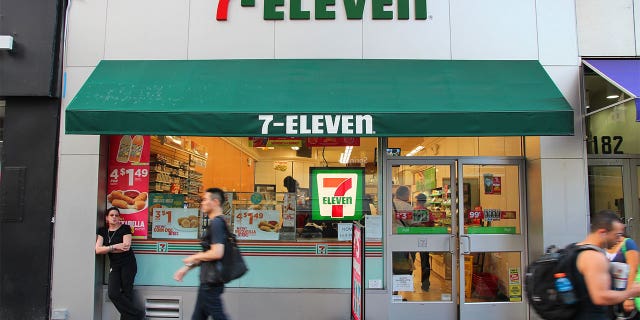 NEWYou can now listen to Fox News articles!
An incident at a 7-Eleven store in Tampa is making the rounds on social media after cell phone footage shows a clerk angrily snapping at a customer who spoke to him in Spanish.
In a phone video taken at the scene, the irate clerk is seen lashing out at the Cuban national – and U.S. citizen – as he was trying to buy a pack of cigarettes.
After the young man asked for a pack, the clerk asked him what kind he wanted — to which Rodriguez responded in plain Spanish.
Then, suddenly, the man behind the register gets visibly angry and asks him repeatedly if he was a legal citizen.
"Listen to me," the clerk is heard saying. "Are you here legally? Do you have papers?" His tone gets increasingly louder and the other customers start to take notice.
TRUMP CONDEMNS KILLING OF PAIR WHO TRIED TO STOP RACIST RANT
"Does he speak English?" the clerk asks. "Then why doesn't he speak English if he's here legally?"
A spokesperson for 7-Eleven issued a statement with an apology to the local network WFTS.
"Every customer is important. The statements made by the sales associate were inappropriate and offensive. We are investigating the matter and will ensure it is handled appropriately."
Rodriguez's lawyer, George Lorenzo, told the network his client works full-time and is in the process of learning English.
The young man became a U.S. citizen two years ago through the Cuban Family Reunification Parole Program.